This article is considered a Provisional Article.
As the contents of this article are still being researched, some of the information listed in this article may be incomplete or inaccurate.
Please visit the WBO discussion thread for this article to discuss the draft of this article.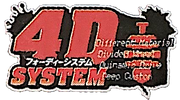 4D System (4Dシステム, Fō Dī Shisutemu) was the third series of 2nd generation Beyblade tops released by Takara-Tomy following their Hybrid Wheel System. This system featured Beyblade tops with Fusion Wheels that could be reconfigured in different positions for different performance modes. Some examples of the new 4D beys include Cosmic Pegasus, L-Drago Destructor, Variares D:D, Fusion Hades AD145SWD, and more.
Gallery
Toyline
Anime
Manga
Reception
This system was very successful in having the new system's mode change theme but still retaining what made the hybrid wheel system successful and loved by many.
Trivia
The 4D System was never officially re-branded by Hasbro with most 4D System Beyblades they did release going under their Hyperblades toyline.
References
Community content is available under
CC-BY-SA
unless otherwise noted.