Ancient Rex SW145SD is an evolved version of Nightmare Rex SW145SD and belongs to Agito.
Face Bolt: Rex II
Same as Nightmare Rex. It features a Tyrannosaurus Rex, one of the most well known dinosaurs.
Energy Ring: Rex II
It is the same as the previous Rex clear wheel, except that it is colored black.
Fusion Wheel: Ancient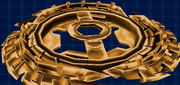 Probably the same as Nightmare, but gold.
Spin Track: Switch 145 (SW145)
Same as Nightmare Rex.
Performance Tip: Semi-Defense (SD)
Same as original Nightmare Rex.
Trivia
Strangely and coincidentally, there is a character in an anime show called Dinosaur King called Rex Ancient. Ancient Rex is just his name backward, it is most likely coincidental.
The Ancient wheel has striking similarities to the Blitz Wheel.
Community content is available under
CC-BY-SA
unless otherwise noted.