Aquario 105B is a Balance-type Beyblade only found from Random Booster Vol.2 Legend Pisces.
Face: Aquario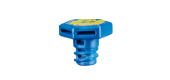 The face on this beyblade "Aquarius", the eleventh astrological sign in the Zodiac. It is on a blue face, and has the letters AQRO on it. 
Metal Wheel: Aquario
This Aquario metal wheel was released primarily in multiple shades of red, and was originally only obtainable through
random boosters (which are now nearly impossible to obtain), and the Attack/Balance conversion set. Takara Tomy then rereleased the wheel in Metal Explosion pakaging along with pre-HWS Aries and Pisces. The wheel its self is basically an exact replica of Hyper, aside from there being no Energy Ring. It has 4 awkwardly rounded wings that provide competitive smash. These wings have a little water-flow pattern on the sides, increasing smash. The Pegasis wheel is shaped in basically the same way, aside from the fact that Pegasis has 3 wings. This gives it more prominent smash, thus outclassing Aquario. Newer Hybrid Wheel System and 4D wheels also beat out Aquario, but it still remains a viable part of competition. It was first used on Aquario 105F.
Attack: 4 - Defense: 2 - Stamina: 1
Track: 105
This track is currently the fourth lowest track available, but is outclassed in terms of Attack and Stamina by the
85, 90, and 100 Tracks. 105 has no problem with floor scrapes, but still is an outclassed part and should only be chosen when none of the aforementioned tracks are available.
Attack: 1 - Defense: 0 - Stamina: 0
Bottom: B (Ball)
The Bottom Ball's tip is, as its name suggests, shaped like a ball.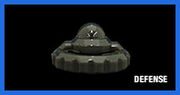 This hemispherical shape provides a large area for the Bottom to make contact with the Stadium floor; hence increasing friction and making it more difficult to knockout. B's shape also makes it likely to stay in the central areas of the Stadium, hence maximizing the customization's distance from the Stadium exits. B is therefore suitable for defensive purposes, although has been outclassed with the release of WB. One advantage it holds over Wide Ball is that it has more Stamina, and does not require a weakened launch; B can be used if WB is not available.
Attack: 0 - Defense: 4 - Stamina: 3
Trivia
It is very similar to Aquario 105F as they use most of the same parts. The only difference is that they use different bottoms.
Community content is available under
CC-BY-SA
unless otherwise noted.