Archer Killerken 130B (アーチャーキラーケン130B, Āchā Kirāken 130B) is a Sky Element Stamina Type Beyblade released by Takara Tomy in the Zero-G Random Booster Vol. 3 Bandid Genbull F230TB on October 20, 2012 in Japan.
Shogun Face Bolt - Killerken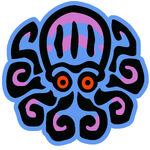 The Stone Face depicts the Kraken, a squid-like sea monster from Norse mythology. It features the Kraken's light blue face, with several tentacles all around it. The motif is featured on a ruby Stone Face.
Warrior Wheel - Killerken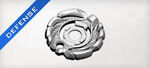 Unlike most of the other Chrome Wheels, Kraken possesses a design which is generally well balanced. Indeed, on one side of the Chrome Wheels, a series of curved lines in the shape of tentacles can be seen in the design, and after a short interruption created by a trapezoid protrusion, the same series of tentacles are reproduced, however, mirrored. At the other side of the trapezoid, the orb from the Crystal Wheel can be seen, surrounded by a design which resembles the beak of an octopus. The wider parts of the tentacles accumulate near the edges of Kraken, leaving only deeply engraved lines near its center.
Element Wheel - Archer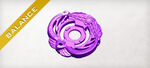 Archer has large curves from a bow protruding around one half of its circumference, with some fancy string details engraved in the rest of the design, notably where the crystal is located. Like any other Crystal Wheel, Archer is however too light to be effective versus all Synchrom customizations as well as most 4D combinations.
Spin Track - 130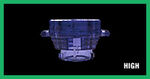 130 is a Spin Track of medium height, primarily used for Defense Type combos. It is a basic all-around Spin Track that also has uses in Attack and Stamina Type combinations. The 130 height is also found in Spin Tracks like Shield 130 (S130) and Wing Attack 130 (WA130).
Performance Tip - Ball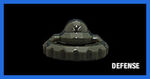 Ball (B) is a hemispherical plastic tip, providing a large area for contacting the stadium floor, hence increasing friction. Ball's shape also makes the Bey tend to stay in the center of the stadium, making ideal for use in Defense combinations.
Gallery
Toyline
Takara Tomy
Trivia