Archer Wyvern 145WB or Archer Wyvang 145WB (アーチャーワイヴァング145WB, Āchā Waivuangu 145WB) is a Sky Element Balance Type Beyblade that appears in the anime Beyblade: Shogun Steel. It is owned by Captain Arrow.
Shogun Face Bolt - Wyvern
Main article: Shogun Face Bolt - Wyvern
This stone face represents a wyvern (a mythical winged dragon-like creature as seen as those two flaps of skin right next to Wyvang's head) or a Ziz, a mythical giant dragon-like creature from the hebrew mythologie. Wyvang also has yellow serpentine like eyes and two long spiky horns and is depicted quite roughly on the face.
Warrior Wheel - Wyvern
Main article: Warrior Wheel - Wyvern
Wyvern's chrome wheel represents a sort of dragon-like sculpture and spikes, similar to the Gil and Dragonis energy ring.
Element Wheel - Archer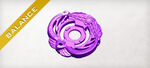 Main article: Element Wheel - Archer

Archer has large curves from a bow protruding around one half of its circumference, with some fancy string details engraved in the rest of the design, notably where the crystal is located. Like any other Crystal Wheel, Archer is however too light to be effective versus all Synchrom customizations as well as most 4D combinations.
Spin Track - 145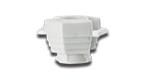 Main article: Spin Track - 145
145, along with its variants (Claw 145 (C145), Down Force 145 (DF145), etc.), was once the highest Spin Track available, until the 230 Spin Track was released with Flame Byxis 230WD. 145 can be used in Stamina Type combinations to great effect due to its tall height, which allows for more wobbling as the Beyblade loses its spin velocity. However, gimmick-paired Spin Tracks such as Boost Disk 145 (BD145) have immensely outclassed their original basic variant, as have several taller gimmick Spin Tracks, especially against heavy, mid-height Attack customisations. Even in stamina battles, 145 does not offer enough balance: Spin Tracks such as Armor Defense 145 (AD145) and Wide Defense 145 (WD145) provide a good center of gravity, and aid with a slight downforce to maintain stability.
Performance Tip - Wide Ball
Main article: Performance Tip - Wide Ball
Wide Ball (WB), as the name implies, is simply Ball with a larger surface. As a result, Wide Ball outclasses Ball in terms of defense. The greater surface area creates more movement compared to Ball. This is disadvantageous against Attack Type combinations, as it increases the chance of a knockout.
Gallery
Anime
Trivia
References
Anime Exclusive Metal Saga Beyblades

Metal System Beyblades
Hybrid Wheel System Beyblades
Synchrome System Beyblades
Other Metal Saga Navboxes