Aries 125D is a Defense-type Beyblade only found in Random Booster Vol. 1 Secret Aries.
Face: Aries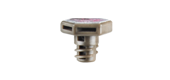 The face on this Beyblade depicts "Aries", the first symbol in the Zodiac and one of the 88 constellations.
Metal Wheel: Aries
It has a wheel with 6 horns and 3 ram heads. It deals slight Upper Smash Attack, but has horrible Defense properties due to the big gaps in the Wheel and has bad Stamina due to frequent recoil. Because, of this it can have a major risk in tournament battles and should not be used competively. It is quite a thin Metal Wheel. It also has a wider diameter than Hell. The difference is about 1 or 2 mm.
Attack: 2 - Defense: 4 - Stamina: 1
Track: 125
125 is a Spin Track of moderate height, midway between 85 and 230 Tracks. It is average and has some use in Stamina-Type customizations but is overall outclassed by its variants, T125 and D125, along with others such as BD145 and TH170. But it can be used competitively in such combinations like Flame Cancer 125SF.
Attack: 0 - Defense: 0 - Stamina: 1
Bottom: D (Defense)
This is a Defense Bottom, which acts as a wider version of a Sharp Tip.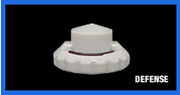 When hit by an opponent, a Beyblade with this Bottom will have lessened recoil and will recover from attacks more efficiently than a Sharp Tip. However, while recovering, the Defense Bottom will cause the Beyblade to lose some Stamina, caused by the added friction. The Defense Tip is now outclassed by SD, PD, WD and EWD in Stamina. But it is a top tier at stamina purposes and yet defensive. 
Attack: 1 - Defense: 4 - Stamina: 2
Trivia
Gallery
Aries 125D - Hong Kong 4-Layer Special Edition Set Version
Trivia
Do not get confused with this Beyblade and Aries 145D. Aries 125D is the bey that was owned by Hyoma in the manga. In the manga, it evolves into Clay Aries ED145B.
Community content is available under
CC-BY-SA
unless otherwise noted.