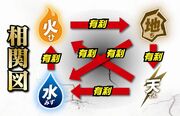 Elements are a rather minor feature introduced in the Beyblade: Shogun Steel series. Essentially, they are symbols of classical elements found on the underside of a Beybattle Top's Element Wheel that once placed in Crystal Up Mode, reveal the symbol signifying that Beyblade's Element.
The Elements show no changes in a Beyblade's performance; neither helping nor hindering it, and as such are merely used for aesthetic purposes.
List of Elements
Fire

Water/Aqua

Air (Sky)

Earth
Dark (Darkness)
God
Trivia
All Japanese official logos of all known elements feature a Kanji character for their name.

Fire: 火
Water: 水
Sky: 天
Earth: 地
Darkness: 闇
God: 神

Strangely, the symbol for Sky features a lightning bolt which falsely suggests the element as "Thunder".
Water is the only element that did not introduce a Water-element Beyblade from a Random Booster; instead originating from a set.
Beyblade: Shogun Steel
Franchise
Mechanics
Anime/Manga Plotlines
Plot Elements
Community content is available under
CC-BY-SA
unless otherwise noted.