Berserker Byakko 125S or Berserker Whiger 125S (バーサーカーホワイガー125S, Bāsākā Howaigā 125S) is an Earth Element Attack Type Beyblade that appears in the anime Beyblade: Shogun Steel. It was revealed on May 28, 2013 in the South Korean premiere of the episode A New Fight. It is owned by Baihu Xiao.
Intended by Takara Tomy for a release in early 2013, this Beyblade was cancelled alongside other Beyblades appearing in the "lost" episodes of the Shogun Steel anime.
Shogun Face Bolt - Byakko

The Byakko Shogun Face Bolt depicts the "White Tiger of the West", one of the Four Holy Beasts in Chinese mythology. The White Tiger of the West is one of the Four Symbols of the Chinese constellations. Byakko depicts a white tiger head with black stripes and yellow eyes.
Warrior Wheel - Byakko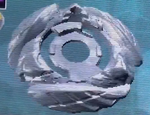 Byakko is a three-sided Warrior Wheel. Each side has wing-like designs, with four sloped layers. Between each of these wings are three spaces with lightning bolt-esque details and inclinations shaped like a tiger's head. Each side uses blue stickers of light and dark gradients placed over them to emulate a tiger's stripes and claws.
Element Wheel - Berserker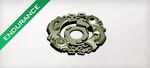 Berserker is a symmetrical Element Wheel, representing a line of chains. The orb design appears to represent boulders. While the Berserker Element Wheel has symmetry, its weight is average, and the shape is too irregular to find use. In addition, like all Element Wheels, Berserker is outclassed in all aspects by the use of Warrior Wheels, which are used in Synchrome combinations.
Spin Track - 125
125 is a midway between the 105 and the 145 Spin Tracks. Utilized in mid-height Stamina Type combos, it is more difficult to destablize compared to 145 height Stamina Type combos. It has declined in popularity due to the release of gimmicked Spin Tracks of the same height, such as Tornado 125 (T125) and Defense 125 (D125), which offer more weight and balance capabilities.
Performance Tip - Spike
Spike (S), or Sharp, is a pointed tip that allows for very little friction between the tip and the stadium surface, which helps prevent the loss of spin velocity. However, due to the fine nature of the tip, it has little movement and is easily knocked off balance, and hence is outclassed by alternatives such as Defense (D).
Gallery
Anime
Trivia
References