Race! The Beywheelz Grand Prix is the fifth episode of the BeyWheelz series. It first aired on August 25, 2012 with Judgment Bey Begins! in the USA.
Plot
While searching for new members for Team Estrella in Das Vegas, Sho and Jin visit one of the main tourist attractions, The BeyWheelz Grand Prix. Two kids, a boy named Marche and a girl named Nicole win the Grand Prix. While Sho considers them great wheelers, Jin is not impressed with the concept of Beywheelz races. Marche and Nicole overhear them and try to convince Jin that it takes a lot of talent to win a BeyWheelz Grand Prix. When Jin doesn't agree they challenge him and Sho to battle them in a Grand Prix which they accept. When the contest begins Marche and Nicole struggle against the power of Pegasus and Drago but then they begin to cooperate and create trouble for Sho and Jin. They both battle valiantly but in the end they lose. Jin admits that a Grand Prix is a challenging battle and it takes real talent to win one. Together Sho and Jin ask them to join Team Estrella which they gladly accept.
Sho and Jin search for strong Bladers in Das Vegas. First they stopped at the beach, as Sho feels the air of the beach and said he wants to swim. Then they heard about the Beyblade Grand Prix. They stop by there and see that Nicole and Marche won the tournament. Jin decides to leave cause seeing this is just a waste of time. As they leave Marche notices Jin and Sho leaving. While Sho and Jin walks away, Jin said that they are looking for bladers thet could join their team and not a bunch of baby's. Suddenly they into Nicole and Marche, who heard everything. Nicole said that they should apologize now. Jin ignores them and keep on walking. Suddenly Nicole and Marche challenge them to a battle and they accept and the showdown starts. The race is fierce but Sho and Jin win. Nicole and Marche then come along with them as new members.
Major Events
Characters
BeyWheelz
Special Moves
Featured BeyWheelz battles
Gallery
Videos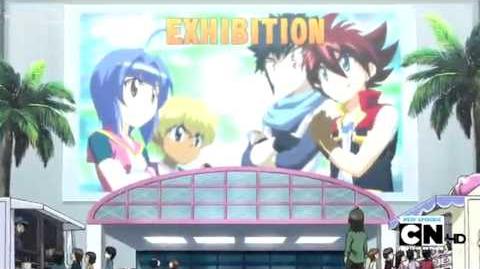 Community content is available under
CC-BY-SA
unless otherwise noted.