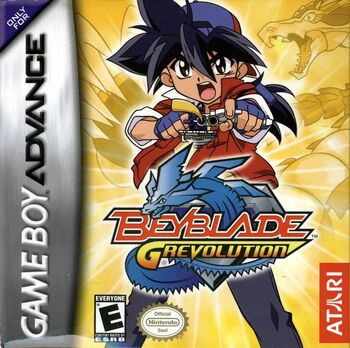 Beyblade: G-Revolution is a video game created for Nintendo's Gameboy Advance system by Atari on November 18, 2004. The game is based on the anime of the same name.
The game is a RPG game, wherein players take the role of Tyson. Battles are resolved using beybattles. There is no multiplayer in this game, which is unusual for a Beyblade video game.
Story Characters
Players step into the shoes of Tyson. As Tyson battles opponents he gains XP and levels up, which in turn powers up his beyblades.
Getting Started
Ray's Apartment
Park
Louis
Chris
Pete
Paul
Phil
Jane
Sarah
Max's House
Skull Crew Gang
Downtown
Playing Field
Forest
Dennis
Carl
David
Oscar
Jamie
Ray's Apartment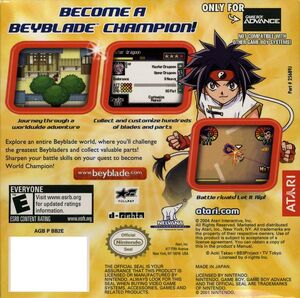 Beyblade Championship
Park
Beyblade HQ
Wendy
Moe
Maddie
Harry
Dougal
Charlie
Swimming Pool
Martin
Will
Guss
Gary
Colin
Wayne
Jerry
Steve
Beystadium
BBA Revolution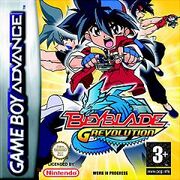 Airport
Rome
Madrid
Cairo
Sydney
Tokyo
Screenshots
Community content is available under
CC-BY-SA
unless otherwise noted.