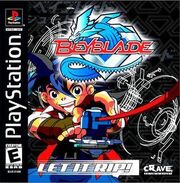 Beyblade: Let it Rip! is a Sony Playstation (aka PlayStation 1) game released by Crave on December 5, 2002 (August 22, 2003 in Europe and December 13, 2001 in Japan). It is based on the original Beyblade series (not the Metal Saga series).
Gameplay
Beyblade: Let it Rip! is a tournament style game with very little roleplay elements. It consists of two modes: Tournament mode, and Free Battle. Tournament mode is the game's story mode, and features 11 matches. Free Battle allows players to battle as or against the characters from the Beyblade anime, or custom characters that are saved to the Memory Card.
The gameplay is very similar to the Nintendo GameCube game Beyblade: V-Force: Super Tournament Battle. However, there are no hidden unlockable characters in Beyblade: Let it Rip!.
Players can also customize the custom character's Beyblade in Customize mode.
Characters in Tournament Mode
Blader A
Blader B
Blader C
Kai
Lee
Max
Michael
Ray
Robert
Tala
Tyson
Screenshots and Gameplay Footage