"Spryzen's Despair!" (絶望のスプリガン, Zetsubō no Supurigan) is the eleventh episode of the Beyblade Burst season. It first aired in Japan on June 13, 2016 and in Canada on December 10, 2016.
Plot
Shu's shoulder injury is becoming more and more serious and doctor warns him to quit the tournament . Valt becomes over-concerned after learning about it and becomes a source of annoyance for the former. Shu battles with Daigo to assure Valt, which further stresses his shoulder and the semi-finals of the District Tournament begins.
Major Events
Valt learns about Shu's shoulder injury.

To prove he's okay, Shu defeated Daigo in a Burst Finish with a new stance.

Valt and Wakiya's battle for the spot on the finals begins with Valt getting the first point, with Wakiya saying that he hasn't unleashed his full power yet, shocking everyone.
Characters
Beyblades
Featured Battles
Special Moves Used
Full Episode
Gallery
Preview
Episode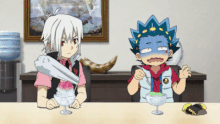 Trivia
References
Community content is available under
CC-BY-SA
unless otherwise noted.