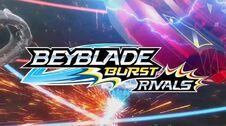 Beyblade Burst Rivals is a free-to-play, puzzle mobile game developed and published by Epic Story Interactive for the iOS and Android platforms. The game was released globally in July 2018 and is the first title released by the game studio. Beyblade Burst Rivals combines role-playing and strategy elements with strategic mechanics based on the Beyblade Burst TV series. It features over 30 Blader characters, Beyblades (called "Beys") and Avatars.
Gameplay
The game is a match-three puzzle game, requiring players to move and match colored tiles arranged in a grid. The number and type of matches determine what resource a Blader's Beyblade attacks and how much damage they inflict. An additional layer of challenge is the acquisition, selection, and improvement of a player's team of Bladers, Beys and Avatars ranging from standard fare to rare and exclusive prizes from the popular franchise. They are mostly based on their hasbro parts (such as Super Hyperion H6 7 Xceed-SP instead of Super Hyperion Xceed 1A).
Plot
The game's story mode follows that of the Beyblade Burst anime series to a certain extent, incorporating every season.
Financing
The game is free-to-play and financed by the sale of in-game currency. It is a commercial success with over 5 million downloads as of December 2019.
Trivia
This is the only mobile game that is not region locked.