Big Bang Pegasis 125SF Blue Wing Ver. (ビッグバンペガシス125SFブルーウィングバージョン, Biggu Ban Pegashisu 125SF Burūu Uingu Bājon) is an Attack Type Beyblade that released by Takara Tomy as a bonus for anyone who bought the first batch of the Ultimate Bey Ta Stadium.
Face Bolt - Pegasis III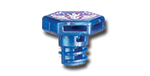 The Pegasus III Face Bolt depicts "Pegasus", one of the 88 constellations in space. In Greek mythology Pegasus was a white, winged, divine horse that was turned into a constellation by the Greek god, Zeus. Unlike the two previous Pegasus Face Bolts, this features a more stylized design. The "hair" of Pegasus is now longer and resembles a lightning bolt. The "P" and "S" letters now do not resemble letters but instead, wing designs are featured. Lightning designs now appear above them and Pegasus' eyes are now red with a blue outline.
Energy Ring - Pegasis III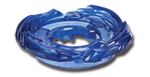 Pegasus III features dual crescent-shaped blades designed in the motif of the mythical Pegasus, complete with wings. Like other 4D Clear Wheels, the Pegasus III Energy Ring included in the Takara Tomy release contained trace amounts of iron powder, which was advertised by Takara Tomy to increase the weight of the Energy Ring. The Beyblade Legends Hasbro release also contained this iron powder.
Fusion Wheel - Big Bang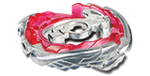 Cosmic is a 4D Metal Wheel that consists of three parts: the PC Frame, Metal Frame, and Core. Cosmic can be configured in four different ways by readjusting the PC Frame and Core components. These modes include "Smash Attack Mode", "All-purpose Attack Mode", "Barrage Mode", and "Upper Attack Mode".
Spin Track - 125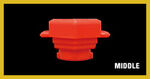 125 is a midway between the 105 and the 145 Spin Tracks. Utilized in mid-height Stamina Type combos, it is more difficult to destablize compared to 145 height Stamina Type combos. It has declined in popularity due to the release of gimmicked Spin Tracks of the same height, such as Tornado 125 (T125) and Defense 125 (D125), which offer more weight and balance capabilities.
Performance Tip - Semi-Flat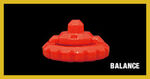 Semi-Flat (SF) is a sharp tip with a flattened end. As a result, Semi-Flat displays a combination of Attack and Stamina qualities, moving in a semi-aggressive pattern. Because of this however, the two attributes are compromised, resulting in an average performance in both categories.
Semi-Flat produces a movement pattern that, while aggressive, is much slower than any flat Performance Tip. The increased friction with the stadium floor due to the wider tip both increases its Defense and Stamina in comparison to a bottom similar to Spike (S) or Eternal Spike (ES). However, it is in absolutely no competition with Performance Tips such as Wide Defense (WD) for Stamina or Rubber Spike (RS) for Defense.
Semi-Flat found a niche use in Destabilizer combinations, where a low Spin Track combined with Semi-Flat's balanced qualities allowed the Beyblade to destabilize the opposing Beyblade.
Gallery
Toyline
Takara Tomy
Trivia
This is the second Pegasus Bey to not use a rubber Performance Tip. The first was Pegasis 105F.