This article contains information about Unreleased material.
As such, the content of the article may change dramatically as more information becomes available. Please do not add speculation to this article and try to provide a source for any information you add.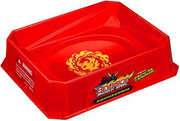 The Blazing Dojo Beystadium is the first Beystadium to be released under the Beyblade: Shogun Steel toyline. It holds a tentative release date for May[1] or June[2] 2013 internationally.
Overview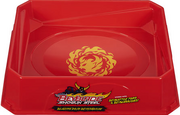 This Beystadium takes on the same shape and design as the Meteor Fire Beystadium, Hades Gate Beystadium, Volcano Vortex Beystadium and Darkhelm FX Beystadium which were released under Beyblade: Metal Fury. The only difference is shown in the graphics, being bright-red with the Stone Face motif at the centre from Samurai Ifrit W145CF in a crisp, fiery orange; surrounded by raging flames. The motif is encased by two Tornado Ridges and a fairly large gap in-between.
It is intended for use with Beybattle Tops (Hasbro's term for Zero-G Beyblades) and BeyWarrior Battlers.
Official Description
"Turn up the excitement with this awesome Blazing Dojo Beystadium arena! Set your own Beybattle or Shogun Steel BeyWarriors tops (sold separately) against each other in head-to-head combat or compete with a friend to determine the ultimate champion. When the high-speed, top-spinning action begins, there's no telling how it will end!"
References
Community content is available under
CC-BY-SA
unless otherwise noted.