This article is about the original 4D System release. For the Hasbro Hybrid Wheel System release, see Blitz Striker 100SF.
Blitz Striker 100RSF or Blitz Unicorno 100RSF (ブリッツユニコルノ100RSF, Burittsu Yunikoruno 100RSF) is an Attack Type Beyblade that appears in the anime and manga series Beyblade: Metal Fury. It is Masamune Kadoya's second Beyblade and the evolution of Ray Striker D125CS. It was released by Takara Tomy in the Strongest Blader Set on August 6, 2011 in Japan. It was later released in western countries by Hasbro as a Spark FX Starter Pack in January 2013.
Face Bolt - Striker II

Main article: Face Bolt - Striker II
The Face Bolt depicts "Monoceros", one of the 88 constellations in space. Monoceros is Greek for "unicorn". The design resembles the original Striker I Face Bolt, but with a more jagged mane design.
Energy Ring - Striker II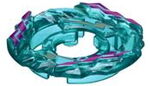 Main article: Energy Ring - Striker II
Striker II resembles its predecessor Striker I, with a new purple horn design. The three horns are more elevated than those of Striker I, and heavier. The horns are intended to align with three-wing Fusion Wheels such as the Blitz Fusion Wheel.
Fusion Wheel - Blitz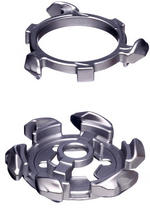 Main article: Fusion Wheel - Blitz
Blitz is a 4D Metal Wheel that consists of two parts: the Metal Frame and the Core. Like other 4D Metal Wheels, Blitz can be switched between two different modes by readjusting the Metal Frame on the Core: "Assault Attack Mode" and "Barrage Attack Mode". In Assault Attack Mode, the protrusions on each side of the Metal Frame fit against the six contact points of the Core, creating a total of three wings on each side. In Barrage Attack Mode, the protrusions are separated by rotating the Metal Frame, creating six wings in total, with three long and three short wings. These are however shorter than the three wings of the Assault Attack Mode. The Assault Attack Mode is preferable between the two, as it has less recoil and more consistent contact with the enemy Beyblade.
Spin Track - 100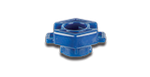 Main article: Spin Track - 100
100 is the third lowest Spin Track available, but is outclassed in terms of Attack and Stamina by the even lower 85 and 90 Spin Tracks. 100 has no problem with floor scrapes, and while it is generally an outclassed part, it is still competitively viable, particularly in Attack customizations where it is able to make contact with opposing Beyblades.
Performance Tip - Rubber Semi Flat
Main article: Performance Tip - Rubber Semi Flat
It is essentially a flat tip with a smaller radius, affording it a firm, defensive grip on the Stadium, but still allowing for a somewhat aggressive movement pattern with the proper launch.
Its drawbacks are that it has shown major weaknesses against Left-Spin Beyblades such as Lightning L Drago, much like RS. RSF, like most Rubber Performance Tips, suffers from poor Stamina, although it has been shown to have slightly more Stamina than RS, due to a wider surface area, resulting in better balance at the end of a battle.
Compared to RDF and even RF however, RSF is not the preferred choice of tip even in Defense, suffering from the eternal issue Balance parts have of not excelling in any type and instead performing decently in two or more categories.
Other Versions
Recolors
Blitz Unicorno Blue Horn Ver. - Japan Championship 2012 exclusive (Metallic blue Blitz, red Unicorno II)
Blitz Striker 100RSF - Hasbro Hyperblades series Spark FX recolor
Variants
Gallery
Toyline
Takara Tomy
Hasbro
Anime
Community content is available under
CC-BY-SA
unless otherwise noted.