This article is about the Hasbro Hybrid Wheel System release. For the original 4D System release, see Blitz Striker 100RSF.
Blitz Striker 100SF is an Attack Type Beyblade released by Hasbro as part of the Hybrid Wheel System. It was released in western countries as a Beyblade: Metal Fury Starter Pack for USD$8.99 in the United States.
Face Bolt - Striker II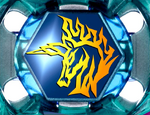 Main article: Face Bolt - Striker II

The Face Bolt depicts "Monoceros", one of the 88 constellations in space. Monoceros is Greek for "unicorn". The design resembles the original Striker I Face Bolt, but with a more jagged mane design.
Energy Ring - Striker I
Main article: Energy Ring - Striker I

The Striker I Energy Ring features three unicorn heads, with bronze horns going towards the right. Being one of the few three-sided Energy Rings, Unicorno is especially useful for three-sided Fusion Wheels like Ray, Blitz, and Hell to provide an even weight distribution.
Fusion Wheel - Blitz
Main article: Fusion Wheel - Blitz (Hasbro)

Hasbro's Blitz, like other Metal Fury remakes of 4D Metal Wheels, forgoes the mode change gimmick, and is hollowed out, reducing its weight by 12 grams. As such, Hasbro's Blitz does not separate into components, and has very high recoil. Hasbro's Blitz is molded to match the "Assault Mode" configuration of the original Blitz Fusion Wheel.
Spin Track - 100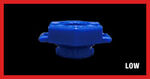 Main article: Spin Track - 100

100 is the third lowest Spin Track available, but is outclassed in terms of Attack and Stamina by the even lower 85 and 90 Spin Tracks. 100 has no problem with floor scrapes, and while it is generally an outclassed part, it is still competitively viable, particularly in Attack customizations where it is able to make contact with opposing Beyblades.
Performance Tip - Semi-Flat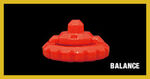 Main article: Performance Tip - Semi-Flat

Semi-Flat (SF) is a sharp tip with a flattened end. As a result, Semi-Flat displays a combination of Attack and Stamina qualities, moving in a semi-aggressive pattern. Because of this however, the two attributes are compromised, resulting in an average performance in both categories.
Semi-Flat produces a movement pattern that, while aggressive, is much slower than any flat Performance Tip. The increased friction with the stadium floor due to the wider tip both increases its Defense and Stamina in comparison to a bottom similar to Spike (S) or Eternal Spike (ES). However, it is in absolutely no competition with Performance Tips such as Wide Defense (WD) for Stamina or Rubber Spike (RS) for Defense.
Semi-Flat found a niche use in Destabilizer combinations, where a low Spin Track combined with Semi-Flat's balanced qualities allowed the Beyblade to destabilize the opposing Beyblade.
Gallery
Toyline
Hasbro
Trivia
The product images on the packaging show a prototype with the Striker II Energy Ring and a Rubber Semi-Flat with black rubber.

The final product replaces these despite displaying and listing them on the back of the box.

Although Hasbro previously released Rubber Semi-Flat (RSF) with Ray Gil 100RSF and Twisted Befall BD145RSF, this was replaced with a Semi-Flat (SF) instead. The reason is currently unknown, but it is possible it was done to save on production costs.