Burn Escolpio 100RF is an Attack-type Beyblade found in Random Booster Vol. 6 Evil Befall.
Face Bolt: Escolpio/Scorpio
The face bolt depicts Scorpius, one of the 88 constellations in space and one of the twelve astrological signs of the zodiac. It is green on a brown face.
Energy Ring: Escolpio/Scorpio
The Energy Ring is a brownish-red color and represents a scorpion's stinger. It is the second lightest Energy Ring, only heavier than the Gemios clear wheel by 0.01 grams.
Attack: 2 - Defense: 1 - Stamina: 4
Fusion Wheel: Burn
Burn has ridges around it along with a fire-like design in the inner part of the Wheel. One of the best Wheels in terms of Stamina. There is a mold variation between Hasbro and Takara Tomy. Takara Tomy has engraved the words "BURN WHEEL" on one side of the Wheel. Whilst, the Hasbro variant does not. Hasbro leaves a blank bit on the wheel. There is little difference between the two variants. Burn slightly resembles Mercury and Vulcan, which is fitting because Vulcan has to do with Fire and fire will 'Burn', hence the name.
Stamina custom:Burn Bull/Aquario AD145SD
Attack: 1 - Defense: 2 - Stamina: 4
Spin Track: 100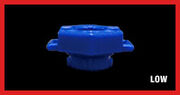 This Track is currently the third lowest Track available, but is outclassed in terms of Attack and Stamina by the 85 and 90 Tracks. 100 usually has no problem with floor scrapes, and while generally an outclassed part, it is still competitively viable, particularly in Attack customizations, where it still makes good contact with most opposing Beys.
Performance Tip: Rubber Flat (RF)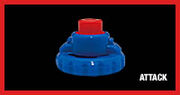 Rubber Flat, as it's name implies, is a Flat Performance Tip made entirely in rubber. It is one of the best Attack Tips, while being one of the worst Stamina Tips along with it's upgrade, Right Rubber Flat, also featuring a Flat Tip made of rubber. However, it wears down slower than R2F after a fair amount of playing. Rubber Flat circles the stadium very fast, delivering devastating Smash Attack. Also it should be noted that Rubber Flat is not as fast as its upgrade, Right Rubber Flat as Right Rubber Flat loses Stamina very quickly. Overall, Rubber Flat is a great Performance Tip for Attack-Type Beyblades. RF is easier to be control than R2F. It has less attack than R2F, but has more stamina. It is army green in color.
Community content is available under
CC-BY-SA
unless otherwise noted.