Burn Fireblaze 135MS or Burn Phoenix 135MS (バーンフェニックス135MS, Bān Fenikkusu 135MS) is a Stamina Type Beyblade released as part of the Hybrid Wheel System. It was released by Takara Tomy in Japan on December 26th, 2009 for 850円, and later by Hasbro in May 2010 to international audiences. It was also re-released by Hasbro in the Beyblade: Metal Masters and Beyblade Legends lines. It is owned by Phoenix.
Face Bolt - Fireblaze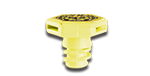 The Fireblaze Face Bolt depicts "Phoenix", one of the 88 constellations in space. The design features the flame-like head of a phoenix, along with the words "Phoenix" inside its beak. The original Takara Tomy release of Fireblaze features a tattooed Face Bolt, while Hasbro's Metal Fusion release is blank. The words "Phoenix" have also been removed on the Metal Fusion release. The Face Bolt in the Metal Masters re-released is identical to Takara Tomy's original release, while the Beyblade Legends re-release is a tattooed Face Bolt with the modified Hasbro design, albeit black instead of orange.
Energy Ring - Fireblaze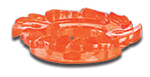 Fireblaze's design consists of the wings and tails of "Phoenix". Yellow details are painted on the wings, with black stickers applied on the tail feathers. Later releases of Fireblaze by Hasbro omit the yellow painted details.
Fusion Wheel - Burn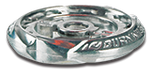 Burn is an almost completely circular Fusion Wheel, interrupted only by two sets of wave-like ridges. The center of the Fusion Wheel features a flame pattern representing the sun, which complements the Fireblaze Energy Ring. Burn's predominant characteristic is its weight distribution. Its weight is concentrated on the edge of the Fusion Wheel, while the center is generally hollow and light. This produces what is known as the Flywheel Effect, which is the ability for a rotating object to increase its rotational velocity with the use of its own momentum.
The ridges are subject to some level of recoil, but are also capable of Smash Attack; however, the latter is not potent enough to be used effectively.
Burn was once the best Stamina Fusion Wheel, along with Metal System Virgo. However, it has since been outclassed by newer Fusion Wheels such as Scythe and Phantom, the latter sharing many characteristics with Burn itself.
Spin Track - 135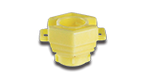 135 is the only Spin Track released at this height and features no gimmick. Due to its odd height, 135 is rarely considered over the taller 145 Spin Tracks and the shorter 120 and 125 Spin Tracks, because it is usually preferred if customizations are either tall or short, and not in between. Average height produces only average effect: a poor mix of what a Fusion Wheel can do at short and tall heights.
Performance Tip - Metal Spike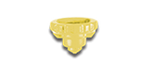 Metal Spike (MS), as its name implies, is a "Spike" tip made of metal. It is mounted on a taller base than other "Spike" series Performance Tips, such as Spike (S). Metal Spike's small contact point produces very little friction on the stadium floor, even less than plastic "Spike" series Performance Tips. While this improves performance for Stamina Type combinations, the increased height of Metal Spike causes balance issues.
Other Versions
Recolors
Burn Fireblaze 135MS - Included in the Burning Fire Strike 2-Pack
Burn Phoenix 135MS WBBA Exclusive Color Ver. - First place prize at the Apita Cup 2010
Variants
Gallery
Toyline
Takara Tomy
Hasbro
Anime
Manga
Trivia
References