This article is about the Metal System release. For the Hasbro Hybrid Wheel System release, see Fury Capricorn 100HF.
Capricorne 100HF is an Attack Type Beyblade that appears in the Metal Fight Beyblade manga. Its evolution is Storm Capricorne M145Q and it is owned by Tobio Oike in the manga. It was only released in Japan and its "Legend" version is Fury Capricorn 100HF.
Face Bolt: Capricorne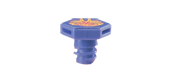 The Face illustrates Capricorn, the tenth astrological sign in the Zodiac. This Seagoat is depicted as having six horns. Hasbro's version of the Face mark in its Fury Capricorn release omits the word "CAPRICORNE" on the banner at the bottom of this animal.
Wheel: Capricorne
Capricorne's design has two main elements related to a goat: at two opposite ends, there are some hooves with two toes each, and on the right of those start one set of two long, curved horns each. To avoid breaking issues, flat metal connects both horns at their end, but also with the side of the hoof. These precautions and the design create an overall very circular shape with some very simple slopes.
In theory, the roundness of this Wheel could make it a good Stamina or Defense type, and the slopes could provide potential Upper Attack, however Capricorne simply lacks all the weight necessary for those properties and its design has no acute points. Also, as is often the case with Wheels, the slopes are not really in the proper direction since Capricorne is only right-spin, and the hooves were oddly placed right at the base of the only good slopes in that spin direction, so they act like boulders. This average, too smooth transition in the relief of this Wheel has rendered it useless since its release, especially with the arrival of the much anticipated Hybrid Wheel System right the following month in Japan.
Spin Track: 100
Main article: Spin Track - 100

100 is the third lowest Spin Track available, but is outclassed in terms of Attack and Stamina by the even lower 85 and 90 Spin Tracks. 100 has no problem with floor scrapes, and while it is generally an outclassed part, it is still competitively viable, particularly in Attack customizations where it is able to make contact with opposing Beyblades.
Performance Tip: Hole Flat
Main article: Performance Tip - Hole Flat

Hole Flat (HF) has a similar movement to that of Flat, with the main difference being a slight Stamina improvement due to the hole in the center of the tip. However, this comes with the detriment of even less grip to the stadium floor than Flat, as well as increased fragility. The hole will eventually wear after use, reducing its grip further.
Gallery