Clay Aquario 105F is an Attack-Type Beyblade.
Face Bolt : Aquario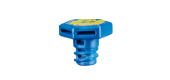 The Face Bolt depicts Aquarius, the water bearer/carrier and one of the 88 constellations in space. The face looks like a vase which appears to have a face on it pouring out water in the form of an arm with the with the letters "AQRO" (Hasboro only) on it.
Energy Ring : Aquario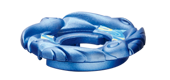 Aquario's original release colour is navy, featuring a wave pattern which repeats itself four times upon the Energy Ring. It is amongst the heaviest Clear Wheels, making it one of the best Clear Wheel choices for HWS based Defense customizations.
Fusion Wheel : Clay

Clay is the Light Wheel equivalent of Rock or Counter. Clay is a good defense wheel because it covers most of the track. This would be a superior wheel and would outclass Rock and Counter if it just wasn't made of plastic.
Spin Track : 105
105 is the fourth lowest Track. It is able to help the bey sneak underneath Defense types and Stamina Types to attack. Although 85, 90 and 100 have been proven to be better options for most Attack types, 105 is still a decent option if the aforementioned Tracks are unavailable. 105 has also shown great value with HF, WD, RF and MF.
Performance Tip : Flat
The Flat Bottom has a flat tip, which gives it an offensive movement pattern. It is a good performance tip for those who do not have HF. It is the Metal Fusion Beyblade equivalent of Flat Core (HMS) or Flat/SG Flat (Plastic). This tip is metallic blue in colour.
Community content is available under
CC-BY-SA
unless otherwise noted.