This article is about the Takara Tomy release. For the Hasbro release, see Rock Aries ED145B.
Clay Aries ED145B (クレイアリエスED145B, Kurei Ariesu ED145B) is a Defense Type Beyblade released by Takara Tomy in Japan on August 8, 2009. It is the prize Beyblade of BB-37 Random Booster Light Vol. 3.
Face Bolt - Aries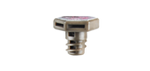 Main article: Face Bolt - Aries

The Aries Face Bolt depicts "Aries", the first astrological sign in the Zodiac. Aries is one of the 88 constellations in space, and is depicted in the design as a ram skull, with the word "ARIes" below it. Some Hasbro releases, such as Torch Aries 125D, omit the word and enlarge the ram skull.
Energy Ring - Aries
Main article: Energy Ring - Aries

Aries is an Energy Ring featuring three "heads" which point outwards, forming a triangular perimeter. The design features rock-like protrusions, and the word "ARIES" is displayed on the stickers.
Light Wheel - Clay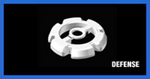 Main article: Light Wheel - Clay

Clay is the Light Wheel equivalent of the Counter Fusion Wheel. The design is very similar, with minor cosmetic differences. Like other Light Wheels, Clay uses plastic instead of metal, reducing its weight significantly. As such, Clay is prone to breakage when used in battles and should be considered as a collector's item only.
Spin Track - Eternal Defense 145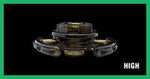 Main article: Spin Track - Eternal Defense 145

Eternal Defense 145 (ED145) features three "wings" that can freely spin around the Spin Track. The wings and overall design are similar to Wide Defense 145 (WD145). Because of the wings' free spinning nature, Eternal Defense 145 mainly finds use in Defense Type combinations. However, Eternal Defense 145 is not as effective as others such as Boost Disk 145 (BD145), or even Claw 145 (C145), as it is unable to absorb hits effectively. The wings lack the mechanism of a bearing, hence creating friction between the wings and body of the Spin Track, resulting in less hit absorption.
Performance Tip - Ball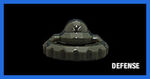 Main article: Performance Tip - Ball

Ball (B) is a hemispherical plastic tip, providing a large area for contacting the stadium floor, hence increasing friction. Ball's shape also makes the Bey tend to stay in the center of the stadium, making ideal for use in Defense combinations.
Other Versions
Variants
Gallery
Toyline
Takara Tomy
Anime
Manga
Trivia
Random Booster Light Vol. 3

Prize Beyblade

Clay Aries ED145B

Other