Cosmic Pegasus F:D or Big Bang Pegasis F:D (ビッグバンペガシスF:D, Biggu Ban Pegashisu F:D) is an Attack-type Beyblade that appears in the anime and manga series Beyblade: Metal Fury. It is Gingka Hagane's fourth Beyblade in the manga, and the third in the anime, replacing Galaxy Pegasus W105R2F. It was released as a Starter Pack on March 26th, 2011 in Japan.
Face Bolt: Pegasus III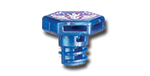 The Face depicts Pegasus, one of the 88 constellations in space. The Pegasus III version has horizontal lines breaking through the "P" and "S" on either side of the Pegasus head, and is generally in a lighter tone.
Energy Ring: Pegasus III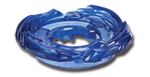 Main article: Energy Ring - Pegasus III

This Energy Ring features dual crescent-shaped blades designed in the motif of the mythical Pegasus, complete with wings. Like many Beyblade tops released under Takara Tomy's 4D System toyline series, the Pegasis III included in the Japanese BB-105 Starter Big Bang Pegasus F:D contained trace amounts of iron dust, which was advertised by Takara Tomy to increase the weight of the Energy Ring.
Fusion Wheel: Cosmic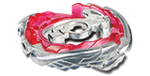 Main article: Fusion Wheel - Cosmic

This Fusion Wheel can be configured four different ways by readjusting the PC Frame and Core components. These modes include "Smash Attack Mode", "All-purpose Attack Mode", "Barrage Mode", and "Upper Attack Mode".
Spin Track/Performance Tip: Final Drive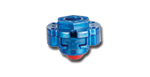 Main article: Performance Tip - Final Drive

When launched, centripetal (outward) force causes the two clipers to come out which push out the "Semi Flat (SF)" tip to eject, moving around slowly and conserving spin. As spin rotation starts to decrease, the SF tip is automatically inserted and what is left is the rubber area of F:D which makes up the "Rubber Flat (RF)" tip. After the switch, F:D moves wildly, most of the time circling around the other Bey until its stamina is lost.
Other Versions
Recolors
Big Bang Pegasis F:D - Included in the Big Bang Pegasis DX Set (White PC Frame)
Big Bang Pegasis F:D - Three recolors were released as grade 1 event prizes at the Japan Championship 2012 (Gold (+10000 BeyPoints), Silver (+8000 BeyPoints), Bronze (+5000 BeyPoints))
Big Bang Pegasis F:D Gold Wing Ver. - CoroCoro exclusive (Gold Metal Frame and Core, blue PC Frame, purple-grey 4D Clear Wheel, green 4D Bottom)
Big Bang Pegasis F:D - Legend Beyblade Set (Gold Metal Frame and Core, black PC frame, yellow 4D Clear Wheel, yellow 4D bottom)
Big Bang Pegasis F:D - Pegasis Leone Rev Up Launcher VS Set, Hong Kong limited (Bronze-gold Metal Frame and Core, dark grey PC Frame, pink 4D Clear Wheel)
Cosmic Pegasus F:D - Hasbro Hyperblades series (Printed Face Bolt, yellow PC Frame, yellow Bottom)
Cosmic Pegasus F:D - Included in the Hasbro Hyper-Strike Battle Set set (Spark FX Face Bolt, blue Metal Frame, orange PC Frame, red and blue Bottom)
Variants
Big Bang Pegasis 105RF Dream Ver./Asia Model - World Championship 2012 exclusive (black Pegasis II, Gold Metal Frame and Core, red PC Frame)
Big Bang Pegasis 125SF Blue Wing Ver. - World Championship Asia exclusive, Ultimate Bey Ta machine challenge prize
Cosmic Pegasus W105R2F - Hasbro variant (Printed Face Bolt, opaque Clear Wheel, red paint on Metal Wheel, red Track and Bottom)
Overall
Cosmic Pegasus F:D is overly outclassed in all aspects, and should only be acquired for the novelty of its gimmicks to find potential in niche combinations. There is no reason to purchase this Beyblade outside of collection purposes.
Gallery
Toyline
Takara Tomy
Hasbro
Sonokong
Anime
Trivia
Cosmic Pegasis F:D is the only Beyblade with a Fusion Wheel that has four different modes.
In terms of raw Attack power, the Big Bang Fusion Wheel is outclassed by Hasbro's Cosmic Fusion Wheel.
Cosmic Pegasus is the only Beyblade owned by Gingka that could change modes.
Cosmic Pegasus was one of the first 4D System Beyblades shown in the anime, the other being Fang Leone 130W2D.
Cosmic Pegasus is one of two 4D Beyblades that has three parts for its Fusion Wheel (PC Frame, Metal Frame, and Metal Core), the other being Firefuse Darkhelm AD145SWD.
The tip of Cosmic Pegasus is similar to God Valkyrie's Ultimate Genesis Reboot.
Community content is available under
CC-BY-SA
unless otherwise noted.