Counter Leone D125B is a Defense-Type Beyblade. It was originally released with the Nintendo Wii game Metal Fight Beyblade Gachinko Stadium and is based off of BB-22 Leone D125B. It is owned by Minea Minea.
Face Bolt: Leone
Main article: Face Bolt - Leone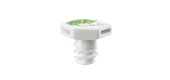 The Face on this Beyblade depicts Leo, one of the 88 constellations. It is also known as the greater lion. It's also the fifth astrological sign in the zodiac. The Metal Masters Leone face is lighter and not outlined, unlike Metal Fusion Sticker Leone.
Energy Ring: Leone
Main article: Energy Ring - Leone

The regular release of Leone is a translucent, blue-green piece. Leone is circular with small ridge details. Even with its circular shape, this Clear Wheel is too light and its weight is not distributed as well as other, top-tier Energy Rings like Cancer/Gasher, Aquario, Bull, etc.
Attack: 1 - Defense: 4 - Stamina: 2
Fusion Wheel: Counter
Counter is styled like a HWS version of the Metal System Leone. It possesses six similar mane-like projections that coronate its circumference. The gaps between the six projections are too large to provide consistent smash for a competitive Attack Customization however Counter still showcases fair Smash Attack, but unlike Leone, it lacks the same degree of recoil. This is because the projecting paws are more compact and rounded than its counterpart's. The lower recoil makes it a better choice for a defensive combination.
Spin Track: D125
Main article: Spin Track - Defense 125

| | | | | | | | |
| --- | --- | --- | --- | --- | --- | --- | --- |
| Weight: | 1.7 gram | Full Width: | 26.5 mm | Core Width: | 11 mm | Full Height: | 12.50 mm |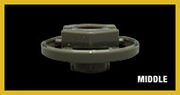 Defense 125 is similar to 125 and T125. Apart from the shifts in weight distribution and air resistance, there are few notable differences. The ring serves no significant defensive purposes. D125 is an outclassed track for Stamina and Defense customizations. It can be used in some Attack customizations.
Use In Attack combination
D125 has found use in attack combinations MSF-H Balro Balro D125 RF/R2F/LRF is one.
Use In Balance combination
D125 can be used in the following balance combination Genbull Dragoon D125 GCF
Performance Tip: Ball (B)
Main article: Performance Tip - Ball

| | | | | | | | |
| --- | --- | --- | --- | --- | --- | --- | --- |
| Full Width: | 15.82 mm | Tip Width: | 5.88 mm | Full Height: | 8.98 mm | Tip Height: | 5.97 mm |
Overall
Due to the rarity of Counter Leone D125B, combined with its completely outclassed parts, there is little to no point in trying to obtain this Beyblade other than for collection purposes.
Other Versions
Counter Leone D125B MF - (Included with the retail version of the "Beyblade Metal Fusion DS" game)
Counter Leone 145D - (Hasbro Legend Series)
Counter Leone - WBBA Exclusive (Black Counter, Clear Leone)
Counter Leone 145D - Hasbro Sonic Series (Pearlescent Lime Green)
Gallery
Trivia
Community content is available under
CC-BY-SA
unless otherwise noted.