Cyber Aquario 105RF is an Attack Type that appears in the Beyblade: Metal Masters anime. It was released in the Beyblade Deck Attack & Defense Set on August 7, 2010 in Japan. It was later released separately by Hasbro as the B-124 Starter Pack. It is owned by Marcus.
Face Bolt - Aquario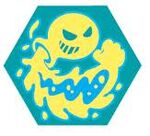 The Face Bolt depicts "Aquarius", the eleventh astrological sign in the Zodiac. Aquarius is one of the 88 constellations in space, and is often represented by a water carrier. As such, the design features a vase of water with a face, and an arm made of water with the word "AQRO" (in the Takara Tomy release) or "Aquario" (in the Hasbro release). Some Hasbro releases, such as Hyper Aquario 105F, omit the word entirely, leaving the arm blank. The design included with Cyber Aquario 105RF features abstract water drops instead.
Energy Ring - Aquario
Aquario is a circular Energy Ring featuring a wave pattern that repeats itself four times. It is one of the heaviest Energy Rings available, only behind Kerbecs and Striker II, making it one of the best choices for Hybrid Wheel System/4D System Defense Type combinations.
Fusion Wheel - Cyber
Cyber is heavily based on the Metal System's Pegasis Wheel; as such Cyber has a three-winged design and is focused on Force Smash. However, due to being a Fusion Wheel for the HWS, it is lighter than Pegasis to compensate for the Energy Ring. In addition, the wings are rounder and not as pronounced, further reducing its Attack potential.
Spin Track - 105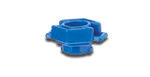 105 is the fourth lowest Spin Track height available, but is outclassed in terms of Attack and Stamina by the 85, 90, and 100 Spin Tracks. 105 has no problem with floor scrapes, but is still an outclassed part and should only be chosen when none of the aforementioned Spin Tracks are available.
Performance Tip - Rubber Flat
Rubber Flat (RF), as its name implies, has a flat rubber tip, with a small indentation on the base of the tip. Its tip is about the same width as Wide Flat (WF), and is the second highest Performance Tip next to Hole Flat/Spike (HF/S).
By using its wide surface area and rubber material, Rubber Flat has a large amount of traction against the stadium floor, resulting in a fast and powerful attack pattern that often renders itself useless by self-KOing the Beyblade it is being used on. To alleviate this problem it is recommended that RF should be worn down first before any competitive use.
Gallery
Toyline
Takara Tomy
Hasbro
Trivia
Cyber Aquario's Hasbro release had a Cyber Wheel painted a dull gold, rather than its Takara Tomy release, which was not painted. The Aquario Energy Ring also appears to be the same one included with Storm Aquario.