Dark Capricorne 105RF is an Attack-type Beyblade released in the Hybrid Wheel Reshuffle Set: Attack & Balance by Takara Tomy in Japan.
Face Bolt: Capricorne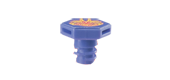 The face on this Beyblade depicts a Goat, which is represented by Capricornus, one of the many zodiac signs. It is purple in color, with an orange goat head and Capricorne written on it.
Energy Ring: Capricorne
The Energy Ring is a fluorescent orange color. On the two sides of the Energy Ring are heads of a goat. On some sides of the Energy Ring, there are jagged spikes. Those spikes are good for upper attacks.
There is no difference beaten the Spiral Capricorn 90MF energy ring and this energy ring, except sticker placement.
Fusion Wheel: Dark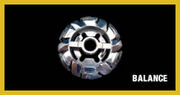 Dark has twelve spikes facing the clockwise direction. These protrusions are closely packed together with minimal space between each, resulting in an overall round shape. This shape hinders the Metal Wheel in two ways, as its protrusions are not pronounced enough to provide sufficient Smash Attack, while the perimeter is interrupted too frequently for sufficient Stamina.
Still, Dark shows some decent defense and can be used competitively (to a small extent) this way, but Twisted (Basalt) & Earth both outclass it.
Spin Track: 105
105 is the fourth lowest Spin Track currently and is outclassed in terms of Attack and Stamina by 100, 90, and 85. It is an average Track and should only be used when the aforementioned Tracks are not available.
Attack: 1 - Defense: 0 - Stamina: 0
Performance Tip: Rubber Flat (RF)
Rubber Flat, as it's name implies, is a Flat Performance Tip made entirely in rubber. It is one of the best Attack Tips, while being one of the worst Stamina Tips along with it's upgrade, Right Rubber Flat, also featuring a Flat Tip made of rubber. However, it wears down slower than R2F after a fair amount of playing. Rubber Flat circles the stadium very fast, delivering devastating Smash Attack.
Also it should be noted that Rubber Flat is not as fast as its upgrade, Right Rubber Flat as Right Rubber Flat loses Stamina very quickly. Overall, Rubber Flat is a great Performance Tip for Attack-Type Beyblades. RF is more easy to be controlled than R2F, and its stamina is better than R2F. It is army green in color.
Attack: 6 - Defense: 1 - Stamina: 0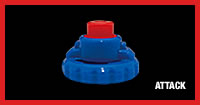 Trivia
Dark Capricorne is the second Beyblade with the 105RF combo. The first was Storm Pegasis.
Community content is available under
CC-BY-SA
unless otherwise noted.