This article contains information about Unreleased material.
As such, the content of the article may change dramatically as more information becomes available. Please do not add speculation to this article and try to provide a source for any information you add.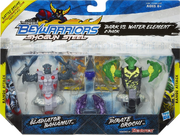 The Dark vs. Water Element 2-Pack is an unreleased BeyWarrior Battle Pack. It should release fall 2013 internationally.
Contents
1 Warrior Weapon
1 Shogun Tip
Official description
Customize and collect with the BeyWarriors battlers
Gladiator Bahamut Battler has Gladiator Warrior Weapons
Pirate Orochi Battler has Pirate Warrior Weapons
Change Warrior Weapon positions for different battle actions
Pack includes 2 five-piece battlers, 2 ripcords, 1 extra set of Warrior Weapons, 1 extra Shogun Tip, 2 collector cards and assembly instructions
Gallery
Trivia
Community content is available under
CC-BY-SA
unless otherwise noted.