The
Destroyer Dome
is a stadium set released by Hasbro, and based on the episode "
Destroyer Dome
". It comes with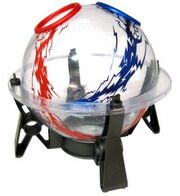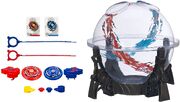 two plastic Dome Spin Tracks and with two Beyblades with normal Spin Tracks: Spiral Fox 130D and Cyclone Herculeo 105F. A Toys-R-Us exclusive VariAres 145WB recolor includes two variations of the plastic Dome Spin Tracks that are compatible with the Destroyer Dome.
Contents
Destroyer Dome Beystadium
2 Assembly Tools
2 Ripcords
2 Hasbro Ripcord Launchers
Sticker Sheet
Instruction Manual
2 Plastic Destroyer Dome Spin Tracks: G58 (rugged) & V61 (smooth)
Spiral Fox 130D
Overview
The Destroyer Dome is a clear circular sphere with two entrance holes. The dome is supported by a four pronged stand, and can be opened by taking the top half of the sphere off.
Along with the dome as mentioned before it comes with 2 plastic wheels, these are literally used to replace the spin track, and cover part of the metal wheel. These rubber wheels allow the bey to get grip on the sphere and pull itself into an angled position to circle the stadium in a 360 degree rotation. This allows the bey to reach all areas of the stadium.
Rulings
When both Beys are launched into the stadium and begin to rotate around the dome, the first bey to lose stamina and stay at the bottom of the stadium is the loser. The aim is to get your Bey to stay rotating around the stadium for as long as possible, so a great way to win is a lightweight high speed stamina type.
Problems
Although the plastic Dome Spin Tracks allow this ability to move freely along the stadium, there is two variations of the plastic Dome Spin Tracks that are included: one smooth and one rugged; so this may be an unfair advantage to a player. Also, the plastic Dome Spin Tracks do not spin very long, and a battle seems to last around 2 to 15 seconds, so a late launch could result in a perfect chance of victory.
Community content is available under
CC-BY-SA
unless otherwise noted.