| | |
| --- | --- |
| | This article is part of Beyblade Wiki: Project: Accessories, a Beyblade Wiki project that aims to cover all aspects of Beyblade Accessorization such as Stadiums, tools, launchers, and upgrades. |
The Digital Power Launcher is a ripcord launcher available exclusively in Japan. Gingka has this launcher and uses it throughout the Battle Bladers arc of the first Metal Saga season.
The Digital Power Launchers feature a built-in Launcher, and hence do not require any attachments to operate. It is electronic, and therefore requires 2 x AAA batteries to power the display. They come in two versions: Digital Power Launcher Pegasis Version, and Digital Power Launcher L Drago Version. There is no difference between the two except for the color and stickers.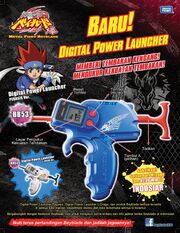 Currently the largest Launcher for Metal Fusion available, the Digital Power Launchers feature a built-in Beypointer, which is compatible with other stand-alone Beypointers. The Launcher also functions as an RPM counter: by changing the mode and then pulling the Ripcord, the strength of the launch can be measured. However, the internal apparatus which measures the RPM generated by the launch actually increases the friction inside the Launcher, and hence, decreases the overall power of the launch.
An additional feature of the Digital Power Launchers is the ability to launch both Right and Left Spin Metal Fusion Beyblades. By changing the prongs attached to the Launcher and inserting the Ripcord into the alternative designated opening, one is able to launch in both Spin Directions. However, it is not possible to launch Right Spin Beyblades in Left Spin direction, and vice-versa.
Note: The Ripcord included with the Digital Power Launchers is not compatible with any other Metal Fusion Launchers.