Divine Fox 90W²D is a Defense-type Beyblade and a variation of Spiral Fox TR145W²D that was released in Random Booster Vol. 8 Jade Jupiter.
Face Bolt: Fox
The Face Bolt depicts "Vulpecula", one of the 88 constellations in space. Vulpecula is Latin for "little fox". It is represented by an goose (Anser) in the jaws of a fox. The design features a fox's head with the left side representing an angel while the right side represents a demon on a purple Face Bolt.
Energy Ring: Fox
Fox has claw-like ridges going around the Ring in a circular format while blue in color. It looks very similar to Beafowl.
Attack: 4 - Defense: 1 - Stamina: 2
Fusion Wheel: Divine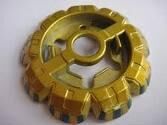 It has 9 protrusions. It has more Attack power than Counter, Storm, and Rock, but it also has more recoil due to the gaps. Its recoil level is slightly less than Poison. However, to reduce more recoil you can just replace the crown face bolt with the Metal Face Bolt. This Wheel was originally only available with Divine Chimera TR145FB, which was a CoroCoro limited bey, which could only be obtained by subscribing to the magazine.
It should only be used for collection purposes, having no use for Attack, Defense or Stamina combinations whatsoever.
Attack: 3 - Defense: 3 - Stamina: 1
Spin Track: 90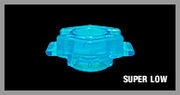 90 is the second shortest track currently avalible, outclassed only by 85. It does have problems with floor scrapes, but is very useful in Attack-Type Customizations, and certain Stamina customizations.
Stamina-Type Customization
90 can also be used in combos like Burn Kerbecs/Aquario/Bull 90 WD/SD/D or Earth Kerbecs/Aquario/Bull 90 WD/SD/D.
Attack: 2 - defense: 0 - Stamina: 0
Performance Tip: Wave Wide Defense (W²D)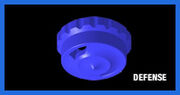 Wave Wide Defense is a version of Wide Defense that resembles it but contains a little spike on it. It is pearl white in colour. Despite this, it has far worse balance than Wide Defense making Wide Defense a better choice to use. However, reattacking is no problem for Wave Wide Defense as there is a flat edge surrounding the spike. It is similar to EWD but lasts longer in battle.
Attack: 0 - Defense: 4 - Stamina: 3
Gallery
Trivia
Random Booster Volume 8 Jade Jupiter

Prize Beyblade
Other
Community content is available under
CC-BY-SA
unless otherwise noted.