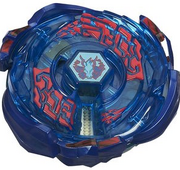 Electro Pegasus is a Hasbro-Only, Electro Battler, Beyblade and a variation of Galaxy Pegasus W105R2F. It is in the Extreme Top System. The package also includes the launcher, and a small poster that has a code to activate customized tops and battle online at http://www.beybladebattles.com/
Description
Electro Pegasus is an electronic-Beyblade (that now resembles Galaxy Pegasus) that has flashing lights and battle sounds which include the metal clashing sounds, which are actually Pegasus' sounds from the anime. It contains LED lights that act as the beyblade's spirit. They resemble the Electronic Beyblades from the Hasbro Metal Fusion Line (at that time it resembles Storm Pegasus). The beyblades' Energy Ring is a dark blue color instead of its transparent blue counter-part.
Gallery
Community content is available under
CC-BY-SA
unless otherwise noted.