Escolpio WD145B is a Defense-type Beyblade. Its evolution is Rock Scorpio T125JB. It is owned by Busujima in the manga. It was only released in Japan.
Face Bolt: Escolpio
The Face Bolt depicts Scorpio which is the eight Zodiac Symbol in astrology.
Wheel: Escolpio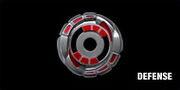 Escolpio is an extremely thick Wheel. (About 3 times thicker than Flame). However, this does not mean that Escolpio is heavy because the wheel is hollowed out and therefore relatively lightweight. Still, it is smooth with only minor bumps and ridges along the sides making deflection and stamina great. Escolpio can also have decent defense when paired with a 105 height track or higher. This is because the Escolpio Wheel has a incredibly large overhang, so when paired with 85, for example, the bottom of the wheel is no more than 1/2 a centimeter from the stadium floor, making floor scrapes inevitable (very likely). Also, since Escolpio is Pre-HWS, clear wheels will not work with it. (The launcher attaches to the metal). On each side, it looks like it has two scorpion tails.
Customizations
Escolpio BD145SD/WD/CS (Defense)
Attack: 5 - Defense: 3 - Stamina: 3.5
Track: Wide Defense 145 (WD145)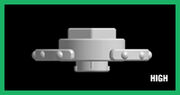 Wide Defense 145 is a lot like Eternal Defense 145, but ED145 is free spinning, and WD145 is fixed, giving more protection from uppercuts. However, it will receive more recoil. Both are equally useful being the fact that they have the same shape. it is outclassed by most 145 spintracks.
Bottom: Ball (B)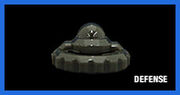 The Ball tip is, as the name suggests, shaped like a ball. This hemispherical shape provides a large area for the Bottom to make contact with the Stadium floor; hence increasing friction and making it more difficult to knockout. B's shape also makes it likely to stay in the central areas of the Stadium, hence maximizing the customizations distance from the Stadium exits. B is therefore suitable for defensive purposes, although has been outclassed with the release of WB, RS, CS and MB. One advantage it holds over Wide Ball is that it has more Stamina, and does not require a weakened launch; B can be used if WB is not available.
Gallery
Trivia
Escolpio is one of the few Beyblade to not have a Legend version.
Community content is available under
CC-BY-SA
unless otherwise noted.