Fang Leone W105R²F Burning Claw Ver. (ファングレオーネW105R²Fバーニングクローバージョン, Fangu Reōne W105R²F Bāningu Kurō Bājon) is an Attack Type Beyblade released by Takara Tomy in Japan on September 17, 2011.
Face Bolt - Leone II
The Leone II Face Bolt depicts "Leo", one of the 88 constellations and the fifth astrological sign in the Zodiac. The letters "L", "E", "O" of Leone I have been replaced with Leo's paw, with a white star on the paw representing Regulus, the brightest object in the Leo constellation. Like Leone I, Leo appears to be wearing a crown. The version included with Fang Leone W105R²F (Burning Claw Ver.) appears to have an inflamed paw.
Energy Ring - Leone II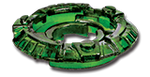 The Leone II Energy Ring resembles Leone I, with its bulky armor-like designs. However, there is now a trapezium-like design with squares and screw motifs, making the Energy Ring appear more sturdier. Takara Tomy classified Leone II as a "4D Clear Wheel" due to trace amounts of iron dust in its Takara Tomy release, which was advertised as increasing the weight of the Energy Ring. However, despite these metal fillings, Leone II is a similar weight to Leone I, thus its performance is the same.
Fusion Wheel - Fang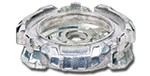 Fang is a 4D Metal Wheel that is comprised of a Metal Frame and Core. It consists of six protrusions of alternating widths, with one being wide, and the other being narrow and square. Fang has a mode change gimmick, where the Metal Frame can be flipped to change modes. The two modes are Defense Mode and Counter Mode. in Defense Mode the hollow side of the Metal Frame faces downwards, and the contact points are rounded. In Counter Mode, the hollow side faces up, revealing claws. The high recoil and Smash Attack makes Fang most useful in Attack Type combinations
Spin Track - Wing 105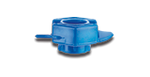 Wing 105 (W105) is an upgraded version of 105 with "wings" resembling fins, at its sides, replacing 105's handle-bar protrusions. The wings are meant to push air upwards similar to DF145, in order to provide additional Stamina to the Bey. However, the effect is barely noticeable and performs just like an average 105. Wing 105 also weighs slightly more than 105, providing slightly better Defense.
Performance Tip - Right Rubber Flat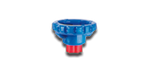 Right Rubber Flat (R²F/R2F) is an upgraded version of Rubber Flat (RF). While retaining the same basic appearance, the Performance Tip, instead of being flat, features six curves going in a right-ward motion, giving it a star-like shape. This provides the Beyblade with fast and much more aggressive movement and speed than that of RF. This is due to the added friction that is created as a result. However there is a downside; despite its fast movement, it has low Stamina, much lower than that of RF. When first used, Right Rubber Flat will be too fast and hard to control, so it is recommended that a Blader wears it down with a few practice battles for it to become more controllable.
Gallery
Toyline
Takara Tomy
Trivia