Forbidden Striker DF105DS is a Balance Type Beyblade released by Hasbro as part of the Hybrid Wheel System. It was released in western countries in the Beyblade: Metal Fury Dragon Emperor Life Destructor 2-Pack for USD$15.99 in the United States.
Face Bolt - Striker II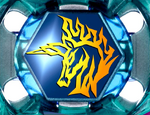 The Face Bolt depicts "Monoceros", one of the 88 constellations in space. Monoceros is Greek for "unicorn". The design resembles the original Striker I Face Bolt, but with a more jagged mane design.
Energy Ring - Striker I
The Striker I Energy Ring features three unicorn heads, with bronze horns going towards the right. Being one of the few three-sided Energy Rings, Unicorno is especially useful for three-sided Fusion Wheels like Ray, Blitz, and Hell to provide an even weight distribution.
Fusion Wheel - Forbidden
The Forbidden fusion wheel bears a resemblance to the Thermal and Vulcan Fusion Wheels. It has decent smash attack and moderate Stamina but has high recoil. Furthermore, its thin perimeter lends it poor defense.
Attack: 3 - Defense: 0 - Stamina: 4
Spin Track - Down Force 105
Down Force 105 (DF105) is similar to Down Force 145 and Wing 105, with four wings meant to provide extra weight and push air upwards. However, this effect is negligible, and thus Down Force 105 is outclassed by other Attack Type Spin Tracks like 85.
Performance Tip - Defense Spike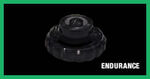 Defense Spike (DS) is a hollowed out Defense (D) tip with a Spike (S) tip embedded inside of it, leaving a gap between the S tip and the outer D "ring". This is intended to create centrifugal force but it is not notable. Like most Defense Type Performance Tips, Defense Spike is able to maintain its balance well.
Gallery
Toyline
Hasbro
Trivia
While the prototype shown on the box has the Striker II Energy Ring, like Blitz Striker 100SF, this was replaced with Striker I in the final product.