Fury Capricorn 100HF is an Attack Type Legend Beyblade. It was re-released as a Booster Pack in the Beyblade: Metal Masters toyline.
Face Bolt - Capricorn
The Face Bolt depicts "Capricornus", which is Latin for "horned goat". Capricornus is one of the 88 constellations in space. The design depicts a goat with six horns, and the word "CAPRICORNE" is depicted on a banner below the goat. Some variants of this Face Bolt do not have the word "CAPRICORNE", such as the Metal Fusion Fury Capricorn 100HF release which removes the words from the banner, and the Metal Masters Fury Capricorn 100HF and Spiral Capricorn 90MF which replaces the banner with more horns.
Energy Ring - Capricorn
The Capricorn Energy Ring is angular, and features two goat head designs, tailed by long horns, with two small spikes separating each head from the horns.
Fusion Wheel - Fury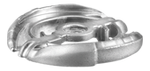 Fury is meant to emulate the Metal System Capricorne Wheel, and as such has a goat design motif. It features two long, curved horns on each side of the Fusion Wheel. In addition, there are slopes intended to provide Upper Attack.
Spin Track - 100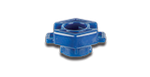 100 is the third lowest Spin Track available, but is outclassed in terms of Attack and Stamina by the even lower 85 and 90 Spin Tracks. 100 has no problem with floor scrapes, and while it is generally an outclassed part, it is still competitively viable, particularly in Attack customizations where it is able to make contact with opposing Beyblades.
Performance Tip - Hole Flat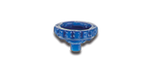 Hole Flat (HF) has a similar movement to that of Flat, with the main difference being a slight Stamina improvement due to the hole in the center of the tip. However, this comes with the detriment of even less grip to the stadium floor than Flat, as well as increased fragility. The hole will eventually wear after use, reducing its grip further.
Gallery
Toyline
Hasbro
Trivia
Fury Capricorn 100HF was re-released in a Hasbro Face-Off Pack called Poison Fury Showdown, alongside Poison Pegasus ED145JB.
The Fury Fusion Wheel bears a resemblance to the Vulcan and Beat Fusion Wheels.

However Fury is outclassed by both Fusion Wheels.

The Fury wheel is extremely resistant to spin steal because of it's smooth edges and it's powerful smash attack.
It is the third Bey with the 100HF combo. The first being Lightning L-Drago 100HF, the second being Cyber Pegasus 100HF.