Black Sun Galaxy Pegasus GB145MS or Galaxy Pegasis GB145MS Black Hole Ver. (ギャラクシーペガシスGB145MS・ブラックホールVer.) is a Stamina Type Beyblade and variation of Galaxy Pegasus W105R2F. It was released in Japan on April 1, 2010 as a CoroCoro Comic lottery prize, with only 100 being originally produced. This Beyblade later saw a release in Hong Kong through a Mani Limited DVD box set, with 3000 units being produced.
Hasbro later released this Beyblade (with a Pegasus II Face Bolt) through a promotional campaign. With three valid purchases of Beyblades from Hasbro, residents of the United States could send their receipts, along with a redemption form, to receive this Beyblade via mail. The campaign ran from March 1, 2012 to April 30, 2012. In Hasbro's own words, this recolor was "valued at $4.99". It was also released in Canada as a Toys "R" Us tournament prize.
Face Bolt - Pegasus I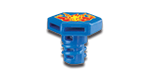 The Pegasus I Face Bolt depicts "Pegasus", the magical winged horse that soared into the heavens for the Greek god, Zeus. Pegasus is one of the 88 constellations in space. The design features the head of Pegasus, appearing white with pupil-less eyes, along with its snout. It also shows Pegasus' two ears, with a long mane alongside a shorter one, sprouting from its head in a lightning bolt-like manner. There are also curved details next to the ears, which are outlined. Next to its head are the stylized letters "P" and "S".
The Cyber Pegasus 105F variant has a filled in "P" and "S". The Face Bolt included with the Beyblade Legends release of Storm Pegasus 105RF is printed and features a yellow head instead of white.
Energy Ring - Pegasus II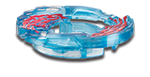 Pegasus II is the successor to the original Pegasus I Energy Ring, and as such retains the designs of Pegasus' wings and symmetrical head design. However, the wings are now much larger and detailed, making up much of the Energy Ring's surface area. The wings also feature the letters "P E G I", short for "Pegasis". Pegasus II is also more circular than Pegasus I, and weighs 3.1 grams, one of the heaviest when it was released.
Fusion Wheel - Galaxy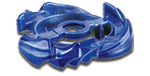 Galaxy, like its predecessor, Storm, Galaxy is designed with three wings. Galaxy has three main curved wings in a left-ward direction; each of these wings are separated into four "sub-wings" which gently curve up. There are small gaps between each of the three main wings. These wings have the distinct appearance of Pegasus' wings, similar to Pegasis and Cyber. On Galaxy's underside, the wings are hollow and due to this, it gives Galaxy its light weight of 29.4 grams. Galaxy's wings also curve into its gaps as well, covering its main Smash Attack points, reducing its potential performance.
Spin Track - Gravity Ball 145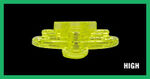 Gravity Ball 145 (GB145) is a wide, round Spin Track with two free moving metal balls. These balls move towards the outside of the Spin Track while spinning, causing additional spin retaining force. While the Spin Track is relatively heavy due to the inclusion of the metal balls, it has been outclassed by later releases of Stamina Type Spin Tracks.
At release Gravity Ball 145 was seen as inferior to Claw 145 (C145), due to the lack of energy-absorbing free spinning wings, making it not as effective against low attacker Beyblades, which were popular at the time. Gravity Ball 145 later found use in Defense Type combinations against Change Height 120 (CH120)-based attacker Beyblades. These types of attackers do not aim to hit the Spin Track, and thus the free spinning wings of C145 are not necessary, and instead a Beyblade could be given a significant increase in the overall weight of the customization. However, it has been outclassed for Defense Type customizations by Spin Tracks such as Boost Disk 145 (BD145).
Performance Tip - Metal Spike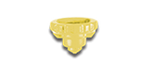 Metal Spike (MS), as its name implies, is a "Spike" tip made of metal. It is mounted on a taller base than other "Spike" series Performance Tips, such as Spike (S). Metal Spike's small contact point produces very little friction on the stadium floor, even less than plastic "Spike" series Performance Tips. While this improves performance for Stamina Type combinations, the increased height of Metal Spike causes balance issues.
Gallery
Toyline
Takara Tomy
Hasbro
Trivia