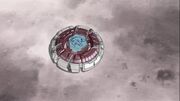 Generic Beys are Beyblades that are used by weak Bladers, Bladers who´ll become stronger during the series or Bladers that make only a cameo appearance. All of these Beyblades are used with Light Wheels which makes them weaker against opponents, which is why they are reserved for minor characters.
The Generic Beys before the Nemesis Crisis
Attack:
Defense:
Stamina:
Balance:
Some evolutions of Generic Beys:
Trivia
All Generic Beys use Raven, Crow, NorthernCross or Cetus as a Facebolt.
All Generic Beys use Leone, Wolf or Sagittario as their Energy Ring.
All Generic Beys use Wind, Clay, Heat or Mad as their Fusion Wheel.
Most Generic Beys use 125 as their Spin Track.
Most Generic Beys use SF, B, S or FS as their Performance Tip.
The most common Generic Beys in the anime are Wind Wolf 125FS, Clay Wolf 125B and Heat Leone 125FS.
The basic Generic Beys are Wind Pegasis 125SF, Clay Leone 125B, Heat Sagittario 125S and Mad Wolf 125FS.