Heat Leone D125FS is a Defense-type Beyblade only found in Random Booster Light Vol. 2.
Face Bolt: Leone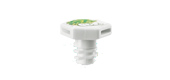 The Face depicts Leone, the fifth astrological sign in the zodiac. The Metal Fusion Leone face is light and not outlined.
Energy Ring: Leone
The regular release of Leone is a transparent, turquoise piece(transparent green and yellow in America) rather than a Green shade in the anime. Leone is very circular with small ridge details. It can provide nice weight and has decent defensive capabilities. Overall, it is a basic ring and used commonly in generic beyblades in the anime.
Customizations
Thermal Leone T125/125 WD/EWD/WB
Flame Leone T125/125WD/EWD/WB
Fusion Wheel: Heat
Heat is the Light Wheel version of Infinity. It is not a very good Fusion Wheel because of it's lightness and the fact it is made out of plastic. Flame looks like Infinity and is white. Smliar to the Thunder/Infinty Metal Wheel.
Spin Track: Defense 125 (D125)
Defense 125 is a standard 125 Spin Track with the addition of a plastic ring surrounding it. This ring's purpose is to absorb hits from low Attackers and increase weight. However, since the Track itself is so low-set, and close to the center of the Bey, it rarely comes in direct contact with an opposing Bey.
The Track was originally made for Defense-types, but due to its small diameter, it does not work efficiently. The ring around it helps stamina, though, as it flows with the air current around it. D125 is decent, but Tracks like Boost Disk 145 and Triple Height 170 greatly outclass it.
Defense 125 is a dark grey in color. D125 does have little use in a balance customization, its height 125 and the ring surrounding it has an effect in the balance combo: MF-H/MF Death Wolf D125/CH120CS/HF/S(Combo tip).
Customisations
MF Gravity Destroyer(Perseus) D125RF (Attack)
MF-H Earth Bull/Aquario D125RS/RSF/CS (Defense)
Burn/Thermal Bull/Libra/Leone D125WD/SD/D (Stamina)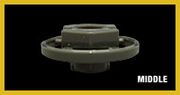 Attack: 0 - Defense: 2 - Stamina: 1
Performance Tip: Flat Sharp (FS)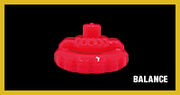 FS has a flat tip with a small, spike tip in the center. As a result, when launched at a straight angle, the Beyblade spins with very little movement. However, when tilted, either from the contact of an opposing Beyblade or from the launch, the Bottom moves in an offensive pattern. However, it suffers from the same problems as other Balance Bottoms, in that the two qualities are compromised, resulting in mediocre performance in both fields.