Jurassic World: Dominion Dominates Fandom Wikis - The Loop
Play Sound
Heat Leone H145S is a Stamina-type Beyblade only found in Random Booster Light Vol. 3.
Face Bolt: Leone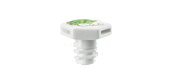 The Face depicts Leo, the fifth astrological sign in the zodiac. The Metal Fusion Leone face (no sticker) is light and not outlined.
Energy Ring: Leone
The regular release of Leone is a transparent, turquoise piece (transparent green and yellow in America) rather than a Green shade in the anime. Leone is very circular with small ridge details. It can provide nice weight and has decent defensive capabilities. Overall, it is a basic ring and used commonly in generic Beys in the anime. This version of the Leone energy ring, is a translucent black.
Fusion Wheel: Heat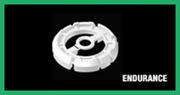 Heat is the light wheel version of Infinity. Heat Leone has many color variations, and is the most often used Bey by non-main characters. Some generic blades, however, are Heat Leone. Heat is composed of eight blades, six large and two small. Heat has minimal space between the blades, reducing smash attack. You can also relate this wheel to Rock, as it has the large ridges that slightly curves down. It has flat surfaces on the big blades, similar to Fang.
Spin Track: H145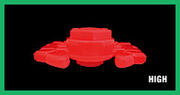 Weight: 4 grams
Height: 14.5 millimeters
H145 has two wings with two various protrusions, representing the horns of a Bull surrounding its perimeter. These four points are meant to provide Smash Attack, and they do succeed on some levels. However, because the horns are so pronounced, and because the gaps between the wings are so wide, significant recoil is produced, especially when used in combination with small Metal Wheels that allow the Horns to extend well past the perimeter of the Wheel. However, H145 may scrape the arena like a lot of other spintracks do.
While H145 may not be an entirely noteworthy part as far as competitive customizations go, it is still quite a fun part to play with. You can score many impressive KO's with the recoil it produces in the first few seconds of a battle, but at the same time, this recoil does work against you in some battles, causing a self-KO or if not, a severe loss of Stamina.
Performance Tip: S
The Sharp Bottom offers very little movement and as such provides no attack potential. The pointed tip allows for very little friction between the Bottom and the stadium surface, which helps prevent the loss of spin velocity. However, due to the fine nature of the tip, the Bottom is easily knocked off balance, and hence is outclassed by superior alternatives such as D or SD.
Gallery