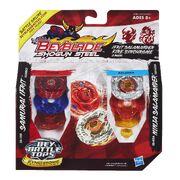 The Ifrit Salamander Fire Synchrome 2-Pack is an unreleased Beybattle Top 2-Pack. It has an MSRP listing of $15.99 and was released internationally around Fall 2013.
Contents
Official description
With the Ifrit Salamander Fire Synchrome 2-pack, two tops clash in an awesome battle
Set features Samurai Ifrit E230GCF for attack and Ninja Salamander SW145SD for balance
Samurai Ifrit top has an Elevator Spin Track part with a disk that moves up and down to help adjust balance
Its Gear Circle Flat Performance Tip piece has a gear shape and a flat tip for power and speed
Ninja Salamander top has a Switch Spin Track piece that lets you switch it from attack to defense
Gallery
Trivia
This was the first Beybattle Top 2-Pack revealed.
The Beybattle Tops included harbor the product codes SS-01A and SS-02A, respectively. This contradicts with the Samurai Cyclone Battle Set, where its Beyblades use the same codes.
Samurai Ifrit E230GCF Collector card displays E230CGF. This might be the mistake made by Hasbro.
Due to the new cross-shaped Shogun Facebolts, the Beys will each weigh a gram less.
This Synchrome 2-pack was inspired by the recommanded Synchrome in the Theif Phoenic / Phoenix packaging : MSF Saramanda Ifraid / Salamander Ifrit E230GCF. The only difference between these combos is the Metal Stone Face with the Saramanda Ifraid combo.
Community content is available under
CC-BY-SA
unless otherwise noted.