Jade Jupiter 130B is a Defense Type Beyblade released by Hasbro as part of the Hybrid Wheel System. It was released in western countries as a Beyblade: Metal Fury Starter Pack for USD$8.99 in the United States.
Face Bolt - Jupiter
Main article:
Face Bolt - Jupiter
The Face Bolt depicts "Zeus", the Greek god of the sky and thunder. Zeus' equivalent in Roman mythology is Jupiter. In Greek mythology, Zeus is the brother of Neptune (Poseidon) and Pluto (Hades). The design features the face of Zeus formed from Aquila, the eagle that held his thunderbolts.
Energy Ring - Jupiter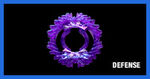 Main article:
Energy Ring - Jupiter
Jupiter is a four-sided Energy Ring, with a design that represents the plumage and feathers of an eagle (Aquila). Although relatively heavy, Jupiter cannot compete with other heavier and well distributed Energy Rings, such as Cancer, Aquario and Cygnus. Jupiters shape, which is formed from many small protrusions, is not ideal for any type compared to the rounder and sturdier designs the aforementioned Energy Rings have. Like other 4D Clear Wheels, Jupiter contains iron powder, which was advertised by Takara Tomy to increase the weight of the Energy Ring.
Fusion Wheel - Jade
Main article:
Fusion Wheel - Jade (Hasbro)
Hasbro's Jade Fusion Wheel is the Hasbro equivalent to the
4D System
Jade
4D Metal Wheel. It is a single piece Fusion Wheel based on the original Jade's Metal Frame, and includes bumps intended to mimic the original Jade's metal ball gimmick. These bumps are integrated into the metal and do not add any significant weight. Hasbro's Jade weighs significantly less than the original, but due to the fact that it leaves huge gaps between what is essentially the Metal Frame's side extensions, Jade still succeeds in delivering decent Smash Attack. However, this performance is nothing compared to other Fusion Wheels such as Flash.
Spin Track - 130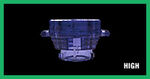 Main article:
Spin Track - 130
130 is a Spin Track of medium height, primarily used for Defense Type combos. It is a basic all-around Spin Track that also has uses in Attack and Stamina Type combinations. The 130 height is also found in Spin Tracks like
Shield 130 (S130)
and
Wing Attack 130 (WA130)
.
Performance Tip - Ball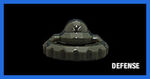 Main article:
Performance Tip - Ball
Ball (B) is a hemispherical plastic tip, providing a large area for contacting the stadium floor, hence increasing friction. Balls shape also makes the Bey tend to stay in the center of the stadium, making ideal for use in Defense combinations.
Gallery
Trivia
Despite having the Performance Tip changed to Ball in this release, the back of the Starter Pack packaging shows Rubber Ball.
It is unknown why Hasbro did not include the Shield 130 Spin Track as it was released previously with Poison Zurafa S130MB.
This is the second Bey to have no Attack power according to BeybladeBattles.com, the first being Twisted Tempo 145WD.