This is an article about the Manga Character. For the anime counterpart of the same name, see here.

Kenta Yumiya (湯宮ケンタ, Yumiya Kenta) is a main character of the Metal Fight Beyblade Manga Series.
He is the best friend of Ginga Hagane who helped him when facing the Facehunters gang. Kenta is much like Ginga's sidekick and is always behind supporting him every step of the way.
Physical Appearance
Kenta is a young boy with a child's face with large dimples and eyes as well as round ears and a small nose. He has a short head of hair which is spiked a bit in the back and in the front. He wears a striped T-shirt with only a single stripe and a pair of cargo shorts. He also wears long socks inside of his lowtop sneakers.
Personality
Kenta is a fun loving, determined boy with a fierce passion for beyblade combined with his passive attitude. Kenta is quite shy as he strays away from talking with people but began to open up during his experiences with Ginga. He became a confident blader who never doubted himself after defeat, thanks to his best friend and mentor Ginga.
Plot
Metal Fight Beyblade
Battle Bladers
Big Bang Bladers
Beyblades
Sagittario 145S: Kenta's first beyblade. It is a Stamina-type beyblade which Kenta exploits as an attack type with it's impressive speed and power. Although it didn't have very good endurance or stamina as a stamina type, Kenta used it well against opponents. When Kenta entered battle bladers his first opponent, Busujima destroyed it to avoid facing Kenta.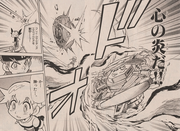 Flame Sagittario C145S: Kenta's second Beyblade. Phoenix found the broken pieces of Sagittario and re-customized it, replacing the broken parts with all new pieces while keeping the facebolt. H gave the new beyblade Flame Sagittario to Kenta. It is a strong Stamina type Beyblade that Kenta still uses as an attack type with great speed and power.
Special Moves
フレイムクロー Flame Claw: A move Kenta developed with his Flame Sagittario. By etending it's claws, combined with Kenta's fiery passion, Sagittario ignites into a flaming bey and slams into the opponent at full force.
Beybattles
Appearances
Gallery