Kerbecs Blade Blast
is a
Stealth Battler
, part of the
Beyblade: Extreme Top System
. It's based on
Hades Kerbecs BD145DS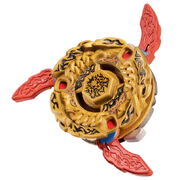 and was released in early January 2012 in North America.
Overview
Kerbecs Blade Blast resembles its regular counterpart of Hades Kerbecs BD145DS, but features a yellow opaque variant of Kerbecs, while its Face Bolt, is an opaque yellow with a printed, black Kerbecs motif. Its Fusion Wheel resembles Hades but in a yellow color, with red square-like holes between each blade. Underneath these red holes, are pockets for its "red hidden blades" that "unleash to strike opponents". These wings resemble blades, hence the name. In a bottom view, the underside of the Wheel is silver with three triangular, yellow spikes around it. There is a hexagonal-shape as well, and its Performance Tip also appears to be a yellow DS.
Performance and features
Kerbecs Blade Blast performs similar to its Performance Top System Hades Kerbecs BD145DS, but falls short because of its plastic wheel and spin-reducing blades. The blades actually work against it, since they are not hard or firm enough to stay in place. The blades can be helpful many times. They can lower Kerbecs' stamina when it hits an opposing bey and lower the other beys stamina as well due to the blades. Kerbecs stamina can get lowered by the blades, but since the bey has buttons on it when the blades are deployed the opposing bey is caught off guard and is pushed away. If the opposing bey comes back to Kerbecs, after getting hit by his blades, Kerbecs's blades tend to hook the opposing bey and let go and throw the opposing bey around the stadium or at the wall of the stadium, that is the only good part about them, because they reduce Kerbecs Blade Blast's stamina with each hit.
Gallery
Community content is available under
CC-BY-SA
unless otherwise noted.