Killer Escolpio 100D is a Defense-type Beyblade that was released exclusively in the Random Booster Vol. 6 Killer Beafowl.
Face Bolt: Escolpio / Scorpio
This Face depicts Scorpius, one of the 88 constellations in space. It is a green figure that appears to be a green scorpion on a translucent brown facebolt.
Energy Ring: Escolpio / Scorpio
The Energy Ring is a olive green color and shows scorpion stingers. It is the second lightest Energy Ring, only heavier than the Gemios clear wheel by about 0.01 grams.
Attack: 2 - Defense: 1 - Stamina: 4
Fusion Wheel: Killer / Evil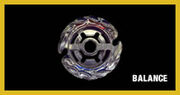 Evil/Killer has a textured, bumpy, two-winged design that ends in two rounded edges. However, unlike its predecessor (Evil Gemios), it is considerably thinner even with a smaller amount of metal dropping below the base of the Fusion Wheel. Being so thin, the edges of each wing do not apply as much force as those of the Evil/Killer Gemios Fusion Wheel. As a result, Evil/Killer loses any of the potential Smash Attack the first incarnation had. Being so thin negates any possible defensive qualities, and though it may seem suited for Stamina, it performs horribly compared to the Top-Tier Stamina Fusion Wheels such as Earth, Thermal, Flame, Burn, Scythe, and Phantom. It outclasses Torch, Dark, and Poison.
Attack: 3 - Defense: 3 - Stamina: 1
Spin Track: 100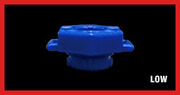 This Track is currently the third lowest Track available, but is outclassed in terms of Attack and Stamina by the 85 and 90 Tracks. 100 usually has no problem with floor scrapes, and while generally an outclassed part, it is still competitively viable, particularly in Attack customizations, where it still makes good contact with most opposing Beys.
Performance Tip: Defense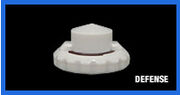 This is a Defense Performance Tip/Bottom. When hit by an opponent, a Beyblade with this Performance Tip/Bottom will have lessened recoil and will recover from attacks more efficiently than a Sharp Tip. However, while recovering, the Defense Performance Tip/Bottom will cause the Beyblade to lose some Stamina, caused by the added friction. WD has much better stamina than D, the friction that added when it brakes make it has little stamina than WD.
Attack: 1 - Defense: 4 - Stamina: 2