King Lion Furious Blast Shot (Erupting Fierce Bullet) is the fifth special move used by Kyoya Tategami and his Rock Leone 145WB.
Beyblade: Metal Fusion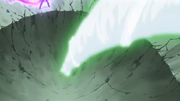 King Lion Furious Blast Shot is Kyoya's fifth special move where Leone immerses itself in a tornado and fires itself at the opponent. Kyoya first used this move in Fierce Battle! Lion vs. Dragon in his battle with Ryuga, but the move could not defeat him.
Trivia