Doctor Strange in The Multiverse o Madness - The Loop
Play Sound
Libra 100F is a Stamina-type Beyblade released in Japan by Takara Tomy.
Face Bolt - Libra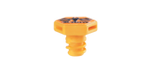 Main article: Face Bolt - Libra

The Face Bolt depicts "Libra", the seventh astrological sign in the Zodiac and one of the 88 constellations in space. Libra is Latin for "scales", and the design fittingly features balance scales with the word "Libra" below it. Some Hasbro releases, such as Thunder Libra DF145BS, omit this word and enlarge the scales.
Wheel - Libra
Representing the scales, Libra has small intrusions, making little recoil. Due to such little recoil, Libra is a great choice for Defense types. Libra also has some Stamina use, due to being balanced; although it is outclassed. Libra is also the heaviest Pre-HWS Wheel.
Libra with Metal Face was once banned by the WBO because it was dominating the metagame. Takara-Tomys's weight limit was 47g. Some customs exceeded 47g (MF-H Libra R100MB), which it was why it was banned. Recently, Libra has been unbanned because there were now many other Fusion Wheel that exceeded 47g, like Twisted.
Spin Track - 100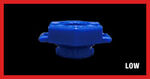 Main article: Spin Track - 100

100 is the third lowest Spin Track available, but is outclassed in terms of Attack and Stamina by the even lower 85 and 90 Spin Tracks. 100 has no problem with floor scrapes, and while it is generally an outclassed part, it is still competitively viable, particularly in Attack customizations where it is able to make contact with opposing Beyblades.
Performance Tip - Flat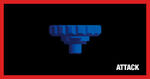 Main article: Performance Tip - Flat

Flat (F), as the name implies, has a flat plastic tip, which gives it an offensive movement pattern. Flat has a hard time retaining a flower pattern due to it being made of plastic, which results in it having less grip to the stadium floor than a rubber Performance Tip such as Rubber Flat (RF).
Gallery