Lightning L-Drago 100HF (ライトニングエルドラゴ100HF, Raitoningu Erudorago 100HF) is an Attack Type Beyblade released as part of the Hybrid Wheel System. It was released by Takara Tomy in Japan on July 18, 2009 for 1200円, and later by Hasbro in August 2010 to international audiences. It is the evolution of L-Drago 105F and later evolves into Meteo L-Drago LW105LF. It is owned by Ryuga.
Face Bolt - L-Drago I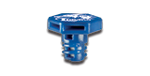 Main article: Face Bolt - L-Drago I
The L-Drago I Face Bolt depicts "Draco", one of the 88 constellations in space. The design features a dragon facing the left, with the words "L Drago" printed beneath the dragon. Some Starter Pack variants have a black background. The Dragon Bite Strike 2-Pack release has the words removed.
Energy Ring - L-Drago I
Main article: Energy Ring - L-Drago I
The first of the "L-Drago" line of Energy Rings, L-Drago I is shaped like three dragon heads. It is one of the heaviest Energy Rings in the Metal Saga toyline and is only compatible with the Lightning Fusion Wheel. Unlike later L-Drago Beyblades, L-Drago I does not contain any rubber. L-Drago I's main gimmick is its unique mode change. Turning the Energy Ring 180 degrees allows it to switch between "Upper Attack Mode" and "Barrage Mode". L-Drago I will cover three of the six protrusions at all times.
Fusion Wheel - Lightning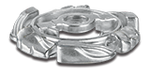 Main article: Fusion Wheel - Lightning
The Lightning Fusion Wheel has two modes, "Upper Attack Mode" and "Barrage Mode", which can be alternated by rotating the L-Drago I Energy Ring 180 degrees. The Upper Attack Mode has powerful Smash Attack, and is widely considered the superior mode. Three large slopes are exposed to deliver Smash Attack. In "Barrage Mode", several small ridged blades are exposed, producing a rapid attack.
Spin Track - 100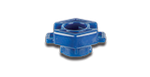 Main article: Spin Track - 100
100 is the third lowest Spin Track available, but is outclassed in terms of Attack and Stamina by the even lower 85 and 90 Spin Tracks. 100 has no problem with floor scrapes, and while it is generally an outclassed part, it is still competitively viable, particularly in Attack customizations where it is able to make contact with opposing Beyblades.
Performance Tip - Hole Flat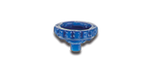 Main article: Performance Tip - Hole Flat
Hole Flat (HF) has a similar movement to that of Flat, with the main difference being a slight Stamina improvement due to the hole in the center of the tip. However, this comes with the detriment of even less grip to the stadium floor than Flat, as well as increased fragility. The hole will eventually wear after use, reducing its grip further.
Other Versions
Recolors
Gallery
Toyline
Takara Tomy
Hasbro
Anime
Manga
Trivia
References