Mad Bull C145HF is a Beyblade only found in Random Booster Light Vol. 3.
Face Bolt: Bull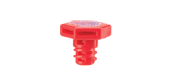 The face on this Beyblade depicts Taurus, one of the 12 zodiac symbols, and also one of the 88 constellations. It is red in color.
Energy Ring: Bull
Bull is currently the fourth heaviest Energy Ring but it is still the second heaviest Energy Ring for right spin beyblades and also perfectly balanced, making it very popular and Top tier in Stamina and Defense Combo's. This Energy Ring is slanted and can cause good attacks. This version is a cloudy cyan in color.
Fusion Wheel: Mad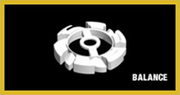 Mad is the Light Wheel equivalent of the Dark Wheel.
Because the gaps in it are small, it reduces smash attack. It also suffers from recoil.
Spin Track: C145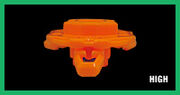 This is a unique track that has the claws on it to strike opponents underneath. The claws point straight out in battle due to the spin, and stay that way through the rest of the battle. It is colored yellow with checkered stickers. This track has been outclassed in Defense and Stamina customizations.
Performance Tip: HF
HF has a very similar movement speed to that of F, with the main difference being a slight Stamina improvement due to the hole in the middle of the tip. But, with this comes the detriment of even less grip to the stadium floor than F, and also increased fragility. However, HF can maintain the flower-like patern of banking shot. At times it is very useful.
Community content is available under
CC-BY-SA
unless otherwise noted.