Welcome to Beyblade Wiki!
Beyblade Wiki is the largest online collaborative encyclopedia about the hobby and anime, Beyblade. It is kept up-to-date by editors like you, to ensure that Beyblade Wiki remains the largest and most trustworthy encyclopedia on Beyblade! Become a member and you can help us expand Beyblade Wiki!

Need an introduction to Beyblade Wiki? Then go to the Community Portal. Be sure to read our Policies, as it provides the guidelines for the content posted. Also, use our tutorial for information on how to create, format, and edit pages. Read more...
Not sure where to start?

Find out more about the wiki on the About page.
If you are new to wikis, check out the Manual of Style.
Adding content

Every wiki has two list of articles that need help called "Stubs" and "Wanted Articles". Don't be shy, get in there.
Uploading images is another really easy way to help out - see the Special:Upload page!
You can find a list of useful templates on Category:Templates.
Burst Superking #26
"GT vs. Super Z!"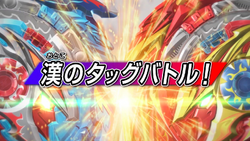 The fourth match of the Tag Battle that'll decide who proceeds to the Finals Tournament finally begins. Drum & Sisco vs Aiga & Lean. With both Drum and Sisco having stakes in this battle, advancing to the finals and dropping out being on the line respectively, they find they get along and come up with a strategy for the match. However, the relationship between Aiga and Lean is tense. In the battle of destiny, Dragon and Achilles fiercely clash, but then when Lucifer takes aim at his target, Satan stands in the way!
Read more...
Burst #65
Beyblade Burst GT #02
Having moved to Japan, Dante Koryu struggles to fit in with his new classmates. However, when Drum stumbles across a bullied Blader at a Beyblade Festival, he finds himself in a battle with a top Blader and their GaTinko Bey!
Read more...
Member of Fandom: Toys and Games

Wikia: Toys and Games (TaG) is a family of open-content encyclopedias based on toy/game franchises, vowing to help each-other, wherever help is needed, and create a family of unified wikis.
Community content is available under
CC-BY-SA
unless otherwise noted.