The Octagon Showdown Battle Set is a set to the Hasbro-developed BeyWarriors side-series of the Beyblade toyline. It has an approximate MSRP listing of $39.99 USD and saw release in Fall 2013.
Contents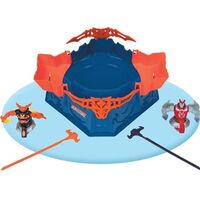 Samurai Ifrit - Orange Head, orange Arms, black Torso with orange highlights and an orange Shogun Tip. Uses two flame katana Warrior Weapons.

Ronin Dragoon

- White Head with crimson highlights, gray Arms, crimson and pearl Torso and white Shogun Tip. Uses two purple lance Warrior Weapons.
Orange Ripcord
Black Ripcord
Two

Collector Cards

for BeybladeBattles.com
Overview
As its name suggests, it will feature an octagon-shaped arena acting as the "stadium" for the BeyWarriors. It was announced via Hasbro's press release for the American International Toy Fair 2013 from February 10 to February 13.
It is said to be "intricately designed" and will allow the Battlers to "spin, crash, and ricochet".
Official description
Get an all-new way to Let It Rip with the 2 exclusive battlers and arena in the all-in-one Octagon Showdown Battle Set
Pit your Samurai Ifrit Speed Attack battler against your Ronin Dragoon Range Attack battler
Change Warrior Weapon positions for different battle action
Switch Warrior Weapons and Shogun Tips among your BeyWarriors Battlers (other battlers sold separately) to see how different combinations change the way they battle
Octagon Showdown Beystadium arena has 2 entrance ramps
Gallery